We recently sent one lucky conte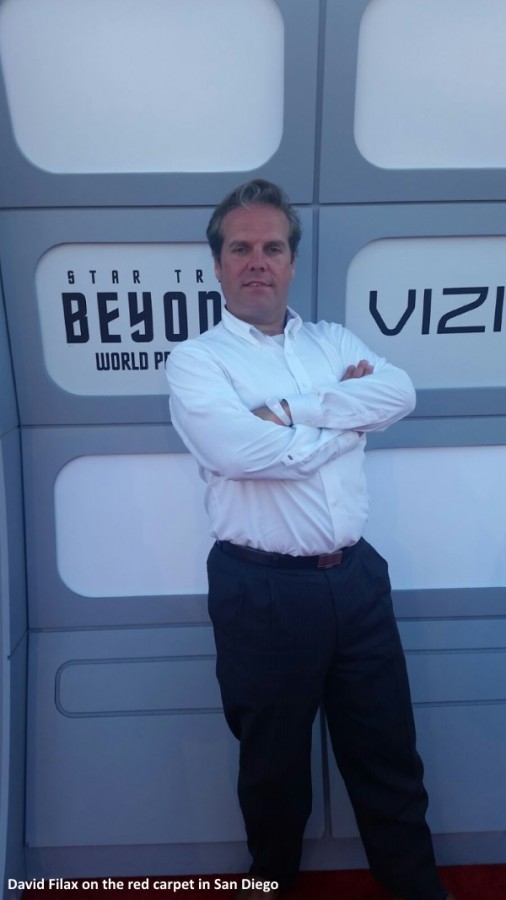 st winner named David Filax to the premiere of Star Trek Beyond in sunny San Diego, California. The prize, worth over $3,000, was for a round-trip airfare to and from San Diego, a two-night hotel stay, full transportation to and from the hotel, and, of course, two admission passes to the star-studded Star Trek Beyond premiere at the Embarcadero Marina Park on July 20.
We spoke to David about his exciting trip to California and what the experience meant to him as a long-time Trekkie.
How surprised were you when you found out you won the trip?
[DF] Totally surprised. In fact, when you called, I was at my recreational trailer. The most ironic part was that only the night before, I was sitting around the fire and had commented to my friend Thomas, who came with me for the weekend, the coolest contest I had entered was the one on Tribute.ca to see Star Trek Beyond the night before Comic-Con in San Diego with the cast.
Who was the first person you told?
[DF] As for the first person I told, it was my wife Tammy. She smirked at me and said first, "I'm not dressing up." She was pleased for my having won, but also remarked as she was not a true fan and this was a trip better enjoyed with one. So my next call was to Thomas.
How often do you enter Tribute contests?
[DF] Daily. You have lots of great prizes and merchandise, how can I not?!
Was this the first time you won something?
[DF] I won a DVD from Tribute.ca before, and passes to see a movie, but never anything as grand as a trip nor a chance to see the movie I am already a big fan of, let alone with the cast that were in it.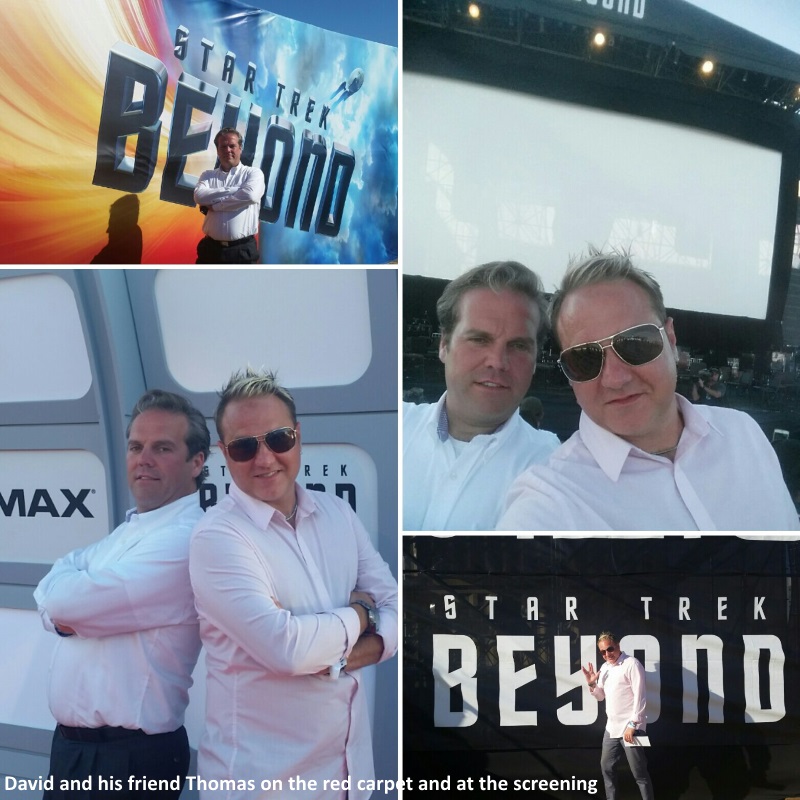 How much of a Star Trek fan are you?
[DF] In this I can honestly say, a large one (and my friend Thomas). As a matter of fact, my nickname since high school has been 'Jim,' labelled by Thomas as he felt I always looked like Captain Kirk (William Shatner, of course). I have been watching Star Trek since as long as I can remember. And my current DVD collection includes the first three seasons of the original series (in their red, blue and yellow cases), the full seven seasons of Next Generation, Voyager, Deep Space Nine and the four seasons of Enterprise. I also have all the movies, from the first motion picture to the current Into Darkness (and waiting to get Beyond when released to Blu-ray). I even have the one season of Star Trek: The Animated Series which I tried watching with my five-year-old daughter, but with little success of getting her hooked like her dad.
Can you briefly describe your schedule & perhaps share some activities or experiences you had.
[DF] We were picked up from the Loews Coronado Bay Resort in a luxury bus limo (transporting us and other winners from around the US to the venue.). It should be noted, this was the first outdoor IMAX movie premiere ever done, according to the hosts and media. When we first arrived, we were lined in a special queue for VIP guests. There were at least a few thousand hopefuls along the waterfront pining to get a chance to come in, or at least, catch a glimpse of the cast as they arrived. From there, we were escorted to the centre seating area. We were able to grab fifth row seats. Once our seats were secured, we explored with two other Canadian winners, Sam and Suzanne. We wandered down the red carpet and the photographers took photos. We got a Subway lunch provided to us and a selection of cold beverages.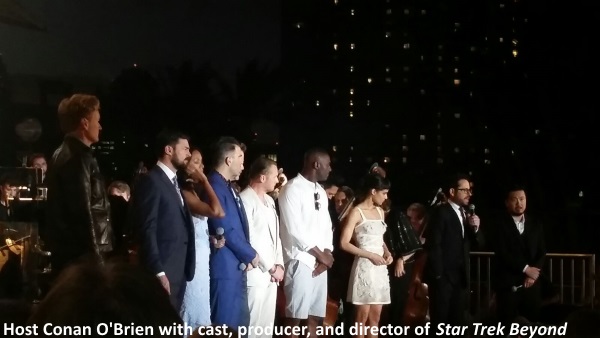 Finally, the cast arrived and we watched as the full ensemble walked along before a plethora of cameras, media and reporters. Once they completed their meet and greets, the show began. It began first with Conan O'Brien hosting the premiere. He introduced the cast one by one (and we were of course within five rows of seeing each cast member as they came forth and offered their greetings and thanks to us loyal fans). This was followed by the full San Diego Symphony doing the full musical score during the movie. As for the movie itself, it was superb, from a great story line, fantastic character plots and most of all, action from start to finish. If you are not a fan before seeing this movie, upon watching it, you will be one.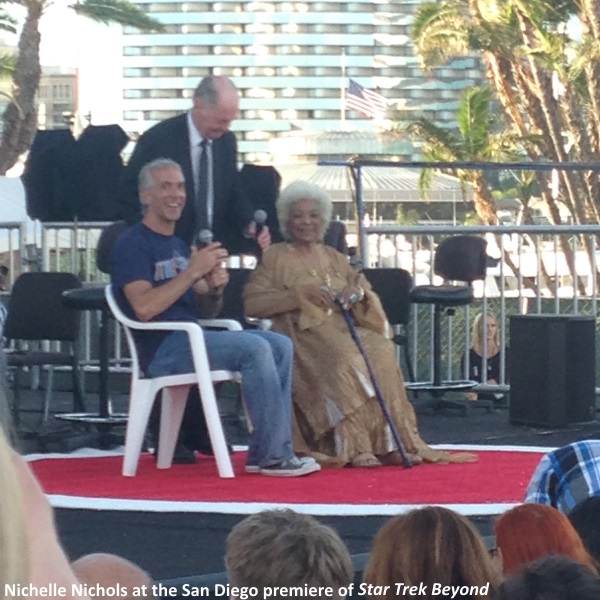 The two best things to have occurred was the surprise visit by Nichelle Nichols herself, the first Uhura, who took a seat before the audience and offered a wonderful tribute to Gene Roddenberry for his creation of this positive world of Star Trek. This was followed by some stories of her own experience in the first season of this now 50-year phenomena.
The second best thing, only in a sense it was second to have occurred after Ms. Nichols, was the heartfelt Tribute to Anton Yelchin by J.J. Abrams of how this premiere was not complete without him. Each of the cast and crew were wearing custom made black Star Trek command insignia lapel pins in his memory and to remind the audience how vital he was to the movie.
What was it like attending the premiere? 
[DF] This was an experience like no other. Sharing a great night, with one of my best friends, at a movie we are long-time fans of, with thousands of other like-minded individuals right before one of the biggest fandom events of the world (San Diego Comic-Con) hosted by stars and with visits by celebrities, exceeded any expectation I could set for my imagination. I can easily say, amazing. I have to thank Tribute.ca for this spectacular event, this trip, this opportunity and giving me the permanent memory and story to tell for years to come. I can only hope when the next winner gets to go, they have the same magnificent time myself and Thomas did. It was truly BEYOND.
Star Trek Beyond, starring Chris Pine, Zachary Quinto and Zoe Saldana, is in theaters now — click here for showtimes.
Click here to enter another one of our awesome contests, including free movies for a year!
(All photos courtesy of David Filax).