Mark Hamill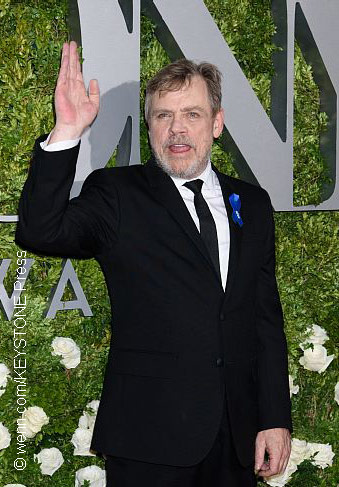 , who plays Luke Skywalker in the Stars Wars films, shocked fans when they were seated and ready to go on the Star Wars digital 3D video flight simulation ride at Tomorrowland at Disneyland in Anaheim, California.
In a cell phone video posted on the official Star Wars Twitter page, a Disneyland guide who's preparing the people on the ride for what's about to happen, looks down at his notes and tells them, "Actually, you know what? The captain did mention something about a special passenger. Oh, and the Force is strong with this one."
Suddenly, Mark comes through the door and the audience begins screaming. One man even seems to be hyperventilating, although he's grinning ear to ear.
Mark looks surprised and jokes: "Wait a minute, there's no Star Wars fans here, right?"
"Yes, there are!" one woman calls out as the audience bursts into even louder cheers and applause.
Check out the video below.
Mark next appears in Star Wars: The Last Jedi, which hits theaters on Dec. 15, 2017. ~Alexandra Heilbron
The Force is strong with @HamillHimself he surprised guests on Star Tours @Disneyland. #TheLastJedi pic.twitter.com/0uG9qVFAqu

— Star Wars (@starwars) November 15, 2017