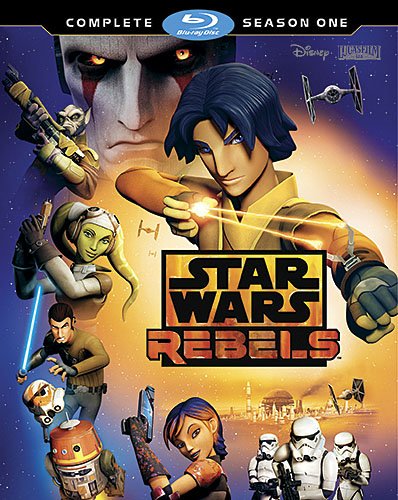 Star Wars has been a staple in many people's lives for nearly 40 years. Having started on the big screen, Star Wars as a franchise has been expanded on in many books, short stories, fan fiction, fan films and cartoons.
Star Wars: Rebels is the latest installment to the vast universe. This animated series is considered official canon to the movies and provides context of events that happened between Star Wars: Episode III – Revenge of the Sith and Star Wars: Episode IV – A New Hope.
This story focuses on Ezra Bridger (Taylor Gray), a young boy who is down on his luck. He is forced to steal food to eat and often causes problems for the Empire. The first episode of season one details how Ezra is able to trick storm troopers into abandoning their post in order to save a merchant.
Shortly after, he discovers a series of crates being transported by the Empire. He steals the crates so he can sell whatever is inside them for money. Another group of rebels led by a scoundrel named Kanan Jarrus (Freddie Prinze Jr.) is also attempting to steal the crates from the Empire.
Ezra escapes with the crates but ultimately joins up with Kanan and his crew out of necessity and while exploring the ship he discovers something very interesting – a lightsaber.
Kanan reveals himself to be one of the few remaining Jedis, following the execution of Order 66 that saw the Jedi Order all but destroyed in a day. As their trip progresses they discover that Ezra is force sensitive and can be trained to be a Jedi. There is also a greater evil within the Empire tracking them down.
Star Wars: Rebels is an exciting and imaginative addition that audiences young and old can enjoy. Ezra is a fun and interesting character to follow. He is an immature kid coming into his own, finding his place in the universe. The reality that his universe has him becoming a Jedi is something he never thought possible and he begins to grow, with a few missteps here and there, to the Jedi Kanan knows he can be.
The series features cameos from some of our favorite Star Wars characters. Anthony Daniels reprises his role as C3P0 in the series alongside his longtime best friend and trouble maker, R2-D2. James Earl Jones once again voices the character of Darth Vader. Frank Oz even comes on to voice Yoda. Billy Dee Williams is also a part of the series, voicing his popular character Lando Calrissian in two episodes.
In addition to the entire first season this Blu-ray pack comes with some great extras. Things that come in the box are Disney Magic Rewards codes and coupons you can apply to items at joindmc.ca.
There are some fun special features available with the season as well, including a look at the Rebels: A Star Wars Celebration in Anaheim, California. There is an interesting art gallery of works for the series as well as a recap of the entire season. The best part is a look ahead to season two.
Star Wars: Rebels is now available on Blu-ray.