Star Wars: The Force Awakens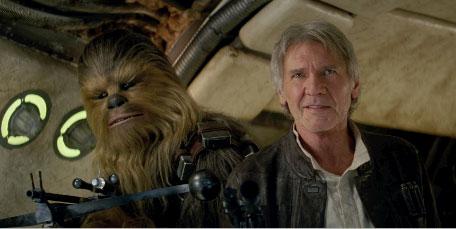 director J.J. Abrams and Lucasfilm president Kathleen Kennedy presented a new trailer earlier today at the Star Wars celebration in Anaheim, California, which has fans buzzing!
On the planet of Jakku, an X-Wing sits in front of a crashed Star Destroyer, as a speeder crosses the horizon with John Williams' famous music playing in the background. As the camera zeros in on Darth Vader's burned and charred mask, Luke Skywalker begins to speak about the force, that he and his sister both inherited from his father. There are flashes of new X-Wings, and new characters running from an explosion, followed by fades between the film's new villain, and the revamped Stormtroopers.
The new Star Wars cast brings back old favorites such as Mark Hamill, Harrison Ford and Carrie Fisher, and introduces new ones such as Andy Serkis, Adam Driver, Domhnall Gleeson, Oscar Isaac, Max von Sydow and Lupita Nyong'o.