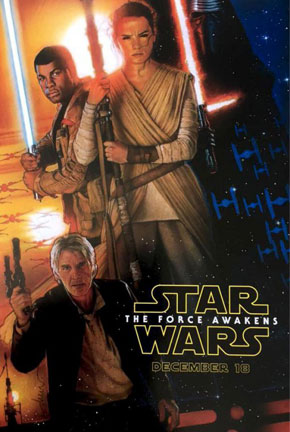 As excitement builds for the highly anticipated seventh installment in the Star Wars saga – Star Wars: The Force Awakens – Toronto fans will get the chance to get a first look at some of the new characters from Lucasfilm's upcoming film when Star Wars: The Force Awakens – The Toronto Exhibit opens this Saturday December 5 for a 16-day run.
The exhibit will be located at the Bell Media campus at 277 Queen Street West and will be open from 11 a.m. to 7 p.m. each day. The pop-up exhibit gives fans a small tease about the new film with five life-size replicas of the characters Rey, Kylo Ren, Captain Phasma, BB-8 and a Stormtrooper. The figures were created by Prop Shop, a London, UK-based company that created the official props used in the production of the film. The mini exhibit in Toronto is the only place in Canada where fans will be able to see the figures.
Other features in the pop-up exhibit include a BB-8 photo op and two limited edition exclusive t-shirts that will be available for purchase. Special guests, themed days, activities and giveaways will be revealed via social media over the duration of the exhibit and fans are encouraged to follow Walt Disney Studios Canada on Facebook, Instagram and Twitter using the hashtag #TheForceAwakensTO for the latest news and details.
Admission is free – you don't even need a ticket – just show up to get in.
Star Wars: The Force Awakens hits theatres December 18, 2015. To buy advance tickets, click here.