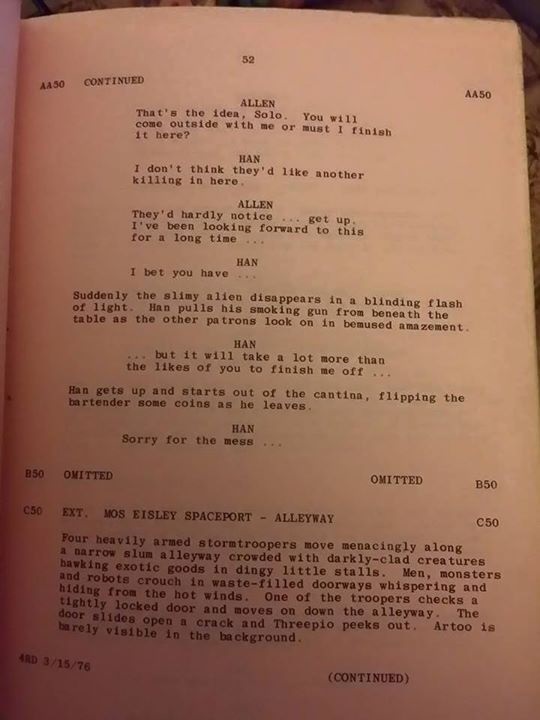 For nearly 40 years Star Wars fans have been debating about a scene in the first film Star Wars Episode IV: A New Hope.
In the iconic scene in which Luke Skywalker (Mark Hamill) and Obi-Wan (Alec Guinness) meet Han Solo (Harrison Ford) and Chewbacca (Peter Mayhew), there is a moment where Han is cornered by a bounty hunter named Greedo.
Greedo threatens to collect on a bounty for Jabba the Hut and is giving Han what appears to be one final moment to live. The next thing you know there is blast of fire at the table and Greedo falls over. Fans have been debating whether or not Greedo or Han shot first.
Chewbacca himself, Peter Mayhew, took to Facebook this week after a long-lost draft of the original movie was found in a library. He posted the page of the scene in question, which showed not only who shot first, but perhaps even more interesting is the fact that Greedo's original name was Allen. The script page as seen on Peter Mayhew's Facebook page highlights the fact that Han shot first.
Technically speaking, there was no second shot at all. Han shot Greedo and killed him. Many debates – some serious, some not so serious – had taken place but now we have a definitive answer, unless Peter Mayhew has the script to the digitally re-mastered, alternative, special edition, limited release, first edition, secret director's cut from George Lucas. ~Greg Chisholm