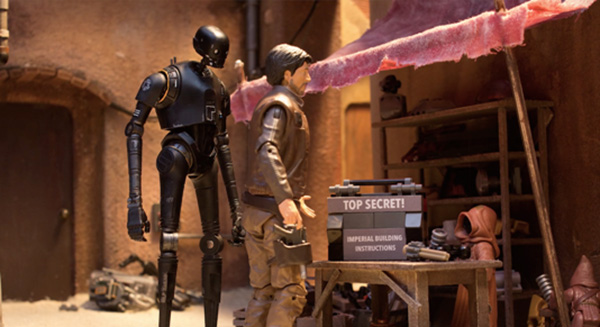 Check out this new short, which gives a look at Rogue One: A Star Wars Story through the use of the new toys that will be released for the movie.
Content creation company Tongal got the opportunity to unveil Rogue One's new series of toys in the stop-motion video below.
It's all part of a contest that invites fans to share their own short stories or skits set in a galaxy far, far away… Winning entries from around the globe will be chosen by a panel including Rogue One: A Star Wars Story director Gareth Edwards.
Beginning September 30, teen and adult fans can enter the Go Rogue contest on StarWars.com/GoRogue. In addition, in the U.S. and parts of Canada, kids 8-12 can participate on Disney.com/MyRogueStory. Winners will be invited to Lucasfilm in San Francisco to attend a screening of Rogue One, and see their short story on the big screen.
"These fan-created shorts are a tribute to the incredible content that the Star Wars community posts online every day," said Jimmy Pitaro, Chairman, Disney Consumer Products and Interactive Media in a press release.
James DeJulio, co-founder of Tongal, said in a press release: "It's been amazing to see what an inspiration Star Wars has been to so many members of our creative community, whether that's coming up with their own Star Wars storylines, or playing out scenes with Star Wars toys at home with their kids."
Check out the Star Wars Go Rogue: Chapter 1 below. Fans can pre-order a handful of select items seen in the "Rogue Stories" beginning September 2 at mass retailers, Disney Store locations and disneystore.com. The full range of new "Rogue One" and Star Wars products will be available globally starting September 30.
Rogue One: A Star Wars Story hits theaters December 16, 2016. ~Yanis Khamsi