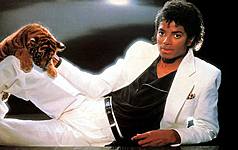 Michael Jackson returns with the 25th Anniversary Edition of Thriller
Although Michael Jackson has been tinged with negative press over the past couple of years, no one can dispute his musical talent. He is the king of pop after all. Jackson is again in the spotlight for the release of Thriller 25, the anniversary edition, the album that shot him to musical stardom and one that became the world's best-selling album of all time. Selling more than 100 million copies worldwide, Thriller still reportedly sells about 60,000 copies a year.
In stores today, Thriller 25 will include the original album in its entirety as well as eight bonus tracks plus a DVD featuring Michael Jackson's groundbreaking short films from the original album, including "Thriller," "Beat It," and "Billie Jean" and the artist's Emmy-nominated breakout performance of "Billie Jean" from the legendary "Motown 25: Yesterday, Today, Forever" television special (first broadcast on NBC on May 16, 1983).
The newly expanded version of Thriller also premieres five remixed tracks including a new Kanye West remix of "Billie Jean," a new version of "Wanna Be Startin' Somethin," with Akon and remixes of "The Girl Is Mine" and "P.Y.T" by will.i.am. Originally released 25 years ago early December 1982 by Epic Records, Thriller, Michael Jackson's sixth solo album and second with producer Quincy Jones, rocketed the former child-star lead singer for the Jackson 5 to international superstardom.
Jackson continues to wow fans new and old with songs from this record. His famous dance moves, the moonwalk and the robot, have influenced today's young artists including Usher, Justin Timberlake and Chris Brown.