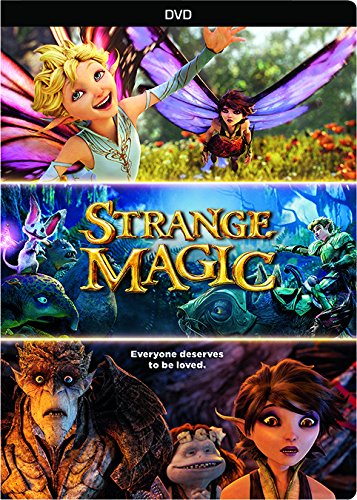 In the animated, musical story Strange Magic, Marianne and her sister Dawn, daughters of the Fairy King, live in the land of fairies, elves, light and creatures. Their realm is beside that of the Bog King, where everything is dark and filled with mushrooms, insects and bog creatures. Separating the two realms are primroses – flowers used to make a love potion that the Bog King does everything he can to destroy.
After Marianne gets her heart broken at the beginning of the movie by a man who just wants to marry her to become a Prince, Marianne becomes a strong and independent fairy who doesn't want a partner. Her sister Dawn is the opposite.  Dawn loves to flirt and dreams about all the men that could possibly be the one for her, all the while loved by her best small elf friend.
A love potion is concocted, leading to a fight and disorder between the two realms. Marianne must face the Bog King and in doing so, sparks emotions that she never would have expected.
This animated tale is charming, sweet and heartwarming. The characters are relatable and when they cannot find the words to express themselves, they sing familiar songs that say exactly what they are thinking.
This story teaches the lesson that you can love anyone, no matter what they look like, because everyone deserves to be loved. Love can come in many shapes and sizes and this tale really drives home that love is much more important than appearances. The animation and music bring this story to life and make it eye catching and fun to watch.
Strange Magic is a great family film that will bring everyone on an adventure about the true meaning of love and the importance of not basing who you love on appearances.
The DVD includes some great special features. In Creating The Magic you get a behind-the-scenes look at the actors as they record voice overs and songs; hear about the vision from producers and the director and listen to the actors talk about their characters and the film. The other special feature is Magical Mash Up, where you get to see how the animated characters were created and how they put together a musical number.
Also releasing on DVD this week: American Sniper, Hot Tub Time Machine 2, Spare Parts, Leviathan and Samba.
Watch the trailers here:
American Sniper
Hot Tub Time Machine 2
Strange Magic
Leviathan
Samba
Spare Parts
~Erin Stewart