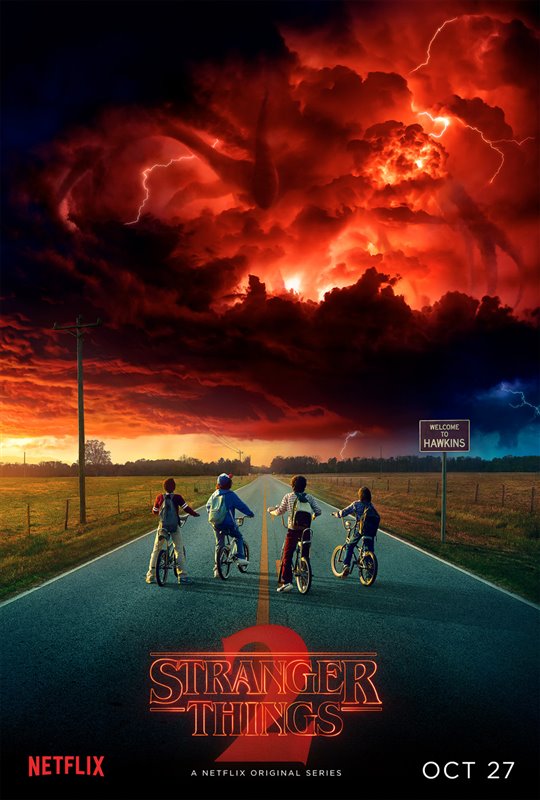 Sci-fi lovers are anxiously awaiting the return of the smash hit Netflix series Stranger Things. The show's fans are excited to get back into the Upside Down and see where the friendly crew of boys, Eleven and the the rest of the townsfolk (sans Barb — RIP Barb) end up.
Back in February, some major plot points were revealed for the much-anticipated second season, including hints that the show will pick up around Halloween. We now have an official premiere date as well as a new tantalizing teaser trailer and poster to get us even more amped up for the show's return.
Stranger Things season 2 will premiere on Netflix a few days before Halloween on October 27th, which is prime viewing time for the terrifyingly entertaining show. The teaser, which shows Mike, Dustin, Lucas and Will cycling past a Hawkins sign under an ominous sky, fittingly reveals that "1984 only gets stranger."
The synopsis for the season reads: "It's 1984 and the citizens of Hawkins, Indiana are still reeling from the horrors of the Demogorgon and the secrets of Hawkins Lab. Will Byers has been rescued from the Upside Down but a bigger, sinister entity still threatens those who survived."
Okay, we've got goosebumps. The chills continue when you look at the newly-released poster and notice that the terrifying cloud that is definitely not a product of a bout of bad weather contains the tentacled body of an otherworldly baddie.
Are you excited yet? Because we are!
Are you going to be streaming the show when it premieres in October? Let us know in the comments what you're excited for in season 2! ~Alexa Caruso