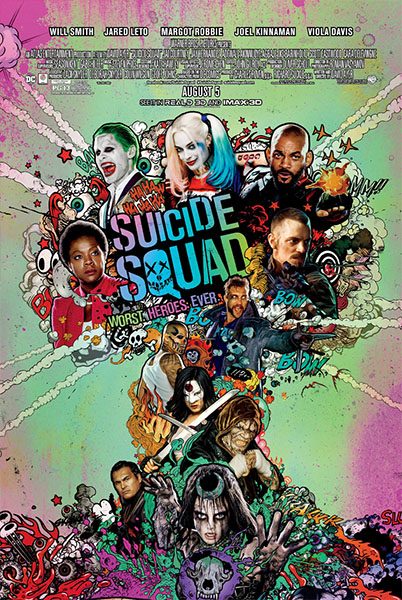 Bad guys finish first, or at least that's how it went down with this week's top trailers. Suicide Squad was the most viewed trailer on our site this week. In second place was mom-comedy (or mom-com) Bad Moms, followed by thriller Jason Bourne coming in third. Family flick Nine Lives came in fourth, and last but not least was action-thriller Nerve.  ~ Yanis Khamsi
Check out the top trailers below:
1) Suicide Squad
2) Bad Moms
3) Jason Bourne
4) Nine Lives
5) Nerve
Suicide Squad: When the White House becomes concerned about the safety of the President of the U.S., Intelligence Officer Amanda Waller (Viola Davis) has a plan. She wants to get a team of super villains together and have them fight against threats to the country. Suicide Squad is the story of bad people coming together in the hope of doing some good.
Bad Moms: Amy Mitchell (Mila Kunis) is a mother of two who puts her family first, but her childish husband, demanding kids and idiot boss are finally getting to her. One morning as she's making breakfast, she realizes the dog is sick. Now she has to take the dog to the vet in addition to dropping the kids off at school before getting to her high pressure marketing job. Bad Moms is the story of a group of stressed out mothers taking a much needed vacation.
Jason Bourne: The CIA's most lethal former operative, Jason Bourne (Matt Damon), is told he's no longer useful to the Secret Special Forces unit. He remembers everything that's happened to him in the past few years, but as Nicky (Julia Stiles) tells him, that doesn't mean he knows everything. Jason Bourne is the latest installment in the Bourne film series.
Nine Lives: Tom Brand (Kevin Spacey), a billionaire businessman, has very little time for his family. With time running out to choose a present for his daughter for her 11th birthday, he stops off to get her a cat like she requested, despite the fact that he hates cats. Nine Lives gets weird when Tom finds himself trapped in the body of a cat.
Nerve: Vee (Emma Roberts) learns about a website called Nerve, in which watchers pay to watch (and comment on the players) and players get a series of increasingly dangerous dares that earn them an increasing amount of money. She feels the website is sketchy, but her friends encourage her to play, because they feel she never takes any risks. Vee learns that once you start playing Nerve, you can't stop.