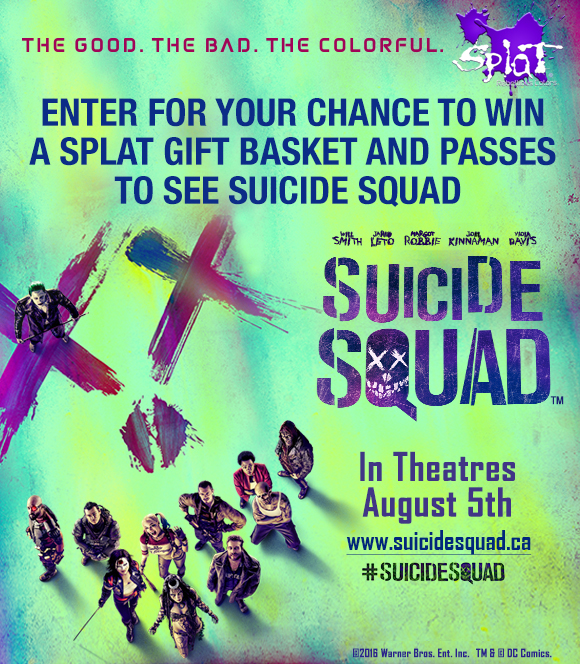 With Suicide Squad set to hit theaters in mere weeks, the mania surrounding the anti-hero action flick has hit an all-time high.
Early June screenings of the film were extremely positive, with one fan saying the film "blew his mind," and another calling director David Ayer "a genius." Its revealing final trailer hit the web less than 24 hours ago, and has already landed over two million views on YouTube.
Based on this and more, it's safe to say that Suicide Squad will probably be a box office hit. Advanced passes went on sale yesterday — but that's not the only way you can secure yourself a spot at the movie theater.
One lucky Tribute fan has already won their passes to the New York premiere of Suicide Squad on August 1, but because we appreciate our readers so much, we've got another cool contest for you to enjoy.
Thanks to the folks at Warner Bros. and Splat hair color, you can now win one of 25 Splat gift baskets, each worth over $75! The basket includes loads of Splat merchandise, as well as two Run-of-Engagement (ROE) movie passes to see Suicide Squad at any of your local Cineplex theaters! There's barely any work involved either — all you have to do is click here to enter.
Featuring an all-star cast including Will Smith, Margot Robbie, Viola Davis, Joel Kinnaman and more, Suicide Squad follows a group of psychotic criminals who are assembled for a special task force to take down any and all threats to national security, notably the most dangerous supervillain of them all — The Joker (played by the unrecognizable Jared Leto). It hits the big screen on August 5.
Contest runs until August 15, and is available to Canadian residents only (one entry per person).