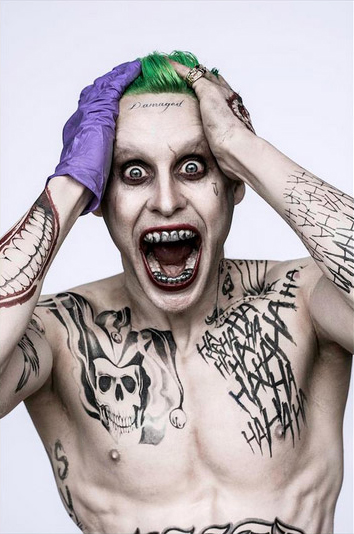 It was a pretty interesting battle this mid-August weekend — last week's champ Suicide Squad vs. new kids on the block Sausage Party and Pete's Dragon. And if you've been keeping up with the movie zeitgeist, you'd know any one of these three could've easily snagged the top spot.
However, only one can achieve true glory, and that lucky victor is… Suicide Squad! The 3.4-star-rated antihero action flick managed to fend off the competition for number one with $43.8 million. Despite a swell of poor reviews, the much-talked-about comic book reboot is still pulling in major numbers at the box office, now having earned over $450 million around the world.
Despite stellar reviews and all the comedy actors you could ask for, including Seth Rogen, Kristen Wiig, Jonah Hill, Bill Hader, Michael Cera, James Franco, Danny McBride, Craig Robinson, Paul Rudd, and Nick Kroll,  Sausage Party just couldn't beat out Suicide Squad. The animated comedy about a food-wide revolution, which has a 3.8-star rating at Tribute.ca, took home a still-respectable $33.7 million in its opening weekend.       
In a surprising turn of events, the critically-acclaimed (and PG-rated) Pete's Dragon opened at a fairly distant third over the weekend. The Disney remake brought in $21.5 million, which isn't a complete bomb, but also isn't the smash-hit debut that other kid-friendly flicks have pulled off this year (see: Finding Dory or The Secret Life of Pets). But with a solid 3.9 stars, Pete and his pet dragon can still boast quite a few fans over here at Tribute.ca.
After a long, nine-year hiatus, Jason Bourne returned to movie screens three weekends ago and has done relatively well for himself ever since. With an impressive 4.3 stars at Tribute.ca, the fifth installment of the Bourne franchise added another $13.6 million to its over $245 million global haul.
The raunchy comedy Bad Moms, starring bad mom trio Mila Kunis, Kristen Bell, and Kathryn Hahn, rounds out the top five this weekend with $11.5 million. As of its third weekend in theaters, the 3.4-star-rated funny flick has more than tripled its $20 million budget, scoring over $75 million at the worldwide box office.