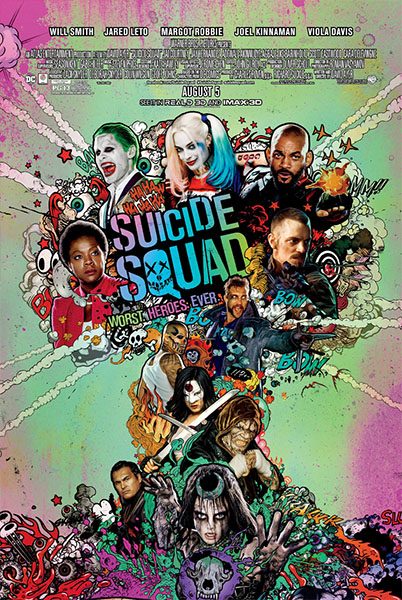 Following in the wake of Deadpool, Zootopia, The Jungle Book and Finding Dory, Suicide Squad has become the fifth film of 2016 to sit atop the box office for three consecutive weekends.
Despite mixed reviews, the DC Comics adaptation with Will Smith and Margot Robbie had moviegoers opening their wallets this weekend. The film generated $20.7 million, which brings its sum to an impressive $262.3 million. The 3.4 star rated, David Ayer-directed superhero flick may be cooling down after premiering to $135.1 million and raking in $43.8 million last weekend, but Suicide Squad is clearly alive and well.
The animated comedy Sausage Party is celebrating its second silver-medal showing this weekend. With the likes of Seth Rogen, Kristen Wiig, Jonah Hill and James Franco on board, its total profit now sits at $65.3 million after reeling in $15.3 million this weekend. With a 3.2 star rating on Tribute.ca, audiences are evidently still having a (raunchy) party with this picture.
It was a good weekend for Jonah Hill, who had another film soar to a spot among the top five box office performers. War Dogs, which co-stars Miles Teller and is directed by The Hangover trilogy's Todd Phillips, scooped up $14.3 million in its debut weekend. The action comedy is loosely based on true events and profiles two hustlers who capitalize on the Iraq War and become international arms dealers. It currently sports a 3.7 star rating on Tribute.ca and cost $50 million to produce.
Contrary to Suicide Squad, Laika's Kubo and the Two Strings was met with glowing critical reviews, and perhaps that warm response played a role in landing it in fourth position at the box office this weekend. The Charlize Theron, Rooney Mara and Matthew McConaughey-voiced animated film is set in fantastical Japan and follows a young boy on a quest to discover his storied legacy. The 4.5 star rated picture earned $12.6 million in its premiere weekend, which doesn't quite match Laika's highest grossing opening — 2014's The Boxtrolls at $17.3 million — but is a respectable amount nonetheless.
In a dispiriting sign for sword-and-sandal films, the epic Ben-Hur — made on a pricey $100 million — debuted in fifth place in its first weekend of release. Starring Jack Huston, Toby Kebbell, Sofia Black D'Elia and Morgan Freeman, it roped in $11.4 million, considerably less than its producers were surely praying for. The 3 star rated film reimagines Lew Wallace's 1880 novel Ben-Hur: A Tale of the Christ and has high hopes for success among Christian viewers, especially in Latin America and parts of Europe.