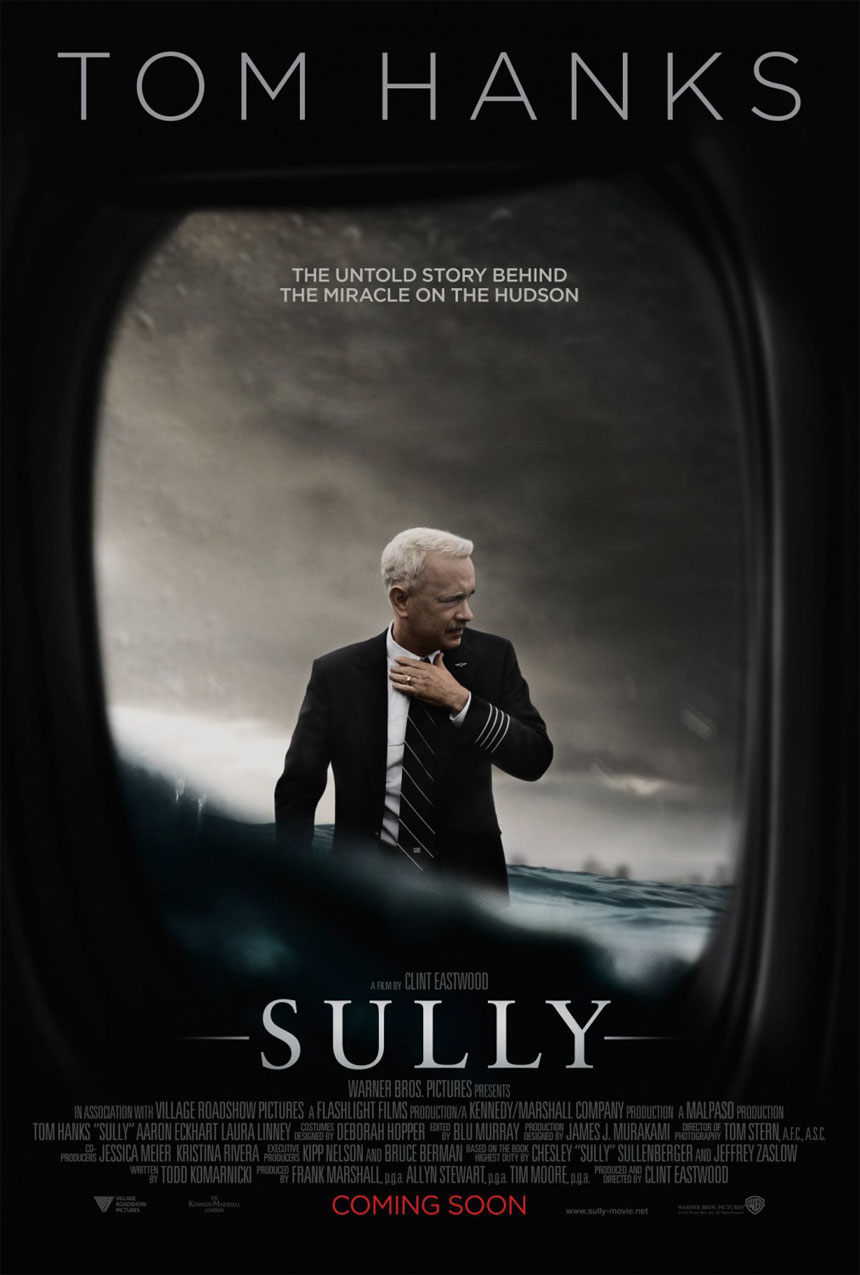 Sully, the biographical drama film about heroic pilot Chesley Sullenberger, soared over its competition in this week's most viewed trailers. Another biographical drama film, Snowden, was the second most viewed trailer on our site this week, followed by the animated comedy The Wild Life in third. In fourth place is the rom-com Bridget Jones's Baby, and sci-fi thriller Passengers places fifth, completing our top five list of most viewed trailers. ~ Natalia Makarski
Check out the top trailers for yourself below:
1) Sully
2) Snowden
3) The Wild Life
4) Bridget Jones's Baby
5) Passengers
Sully: American pilot Chesley Sullenberger (Tom Hanks) becomes a national hero when the plane he was flying was disabled after striking a flock of geese. He successfully glided the plane to a water landing, saving all of the 155 passengers and crew members on board. Directed by Clint Eastwood, Sully tells the story of how an ordinary American, whose work day began in a seemingly normal way, rose to the status of hero with unbridled courage and expertise in the face of panic and danger.

Snowden: This politically-charged drama reveals the story of American Edward Snowden (Joseph Gordon-Levitt), the former CIA employee and NSA contractor who leaked thousands of classified documents to the press. What he revealed was that the U.S. government had been spying on its citizens to a greater extent than most people knew. After deciding to expose the surveillance activities, Edward fled the country to seek asylum, leaving his longtime girlfriend Lindsay Mills (Shailene Woodley) behind.

The Wild Life: When a human named Robinson Crusoe (Yuri Lowenthal) and his dog (Doug Stone) wash up on the shores of a tiny tropical island after a tropical storm, Tuesday (David Howard), an outgoing parrot and his quirky group of animal friends are initially repulsed by the man's furless appearance. However, they soon come to realize he's harmless and over time, make friends with him. When villainous pirates threaten the safety and harmony of the island paradise, Crusoe and his new pals discover the true power of friendship against all odds.

Bridget Jones's Baby: Bridget Jones (Renée Zellweger) and Mark Darcy (Colin Firth) are no longer a couple. They broke up 10 years earlier and Bridget, now in her forties, is focusing on her job as a top news producer. Bridget's co-worker Miranda (Sarah Solemani) drags her to a music festival where she meets a charming tech mogul named Jack (Patrick Dempsey) and sleeps with him. Not long after, Bridget runs into Mark at a wedding and discovers he's going through a divorce. They also sleep together, and when Bridget finds out she's pregnant not long after, she's unsure which of the men is the father.

Passengers: Starship Avalon is a spacecraft is on a 120-year voyage to a distant planet known as Homestead Colony. On board are 5,259 people, suspended in time in sleep chambers. When there's a malfunction, a hibernation pod opens 90 years too early, leaving a single passenger, Jim Preston (Chris Pratt), the only one awake on the ship. Faced with the prospect of growing old and dying alone, he wakes up one of the other passengers — Aurora Dunn (Jennifer Lawrence). When the ship has further malfunctions, they have to try to save everyone on board.