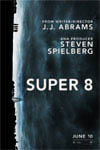 Super 8 is one of the most anticipated and secretive films of the summer. Directed by J.J. Abrams and produced by Steven Spielberg, the movie features a cast of young up-and-comers who weren't even allowed to see the script until after they were hired.
In this exclusive video feature, Tribute's Bonnie Laufer chats with the cast about what it was like to be in a film shrouded in such secrecy.
SUPER 8 is now available on Blu-ray and DVD.