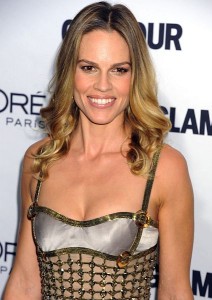 Looks like this New Year's Eve party is set to be a star-studded event.
Hilary Swank, Ashton Kutcher, Michelle Pfeiffer and Robert De Niro, are in negotiations to star in New Year's Eve, the sequel to Valentine's Day—the ensemble love story that was directed by Garry Marshall (Pretty Woman). Marshall is set to begin shooting next month in New York.
The movie tells intertwining stories of a group of New Yorkers as they navigate their way through romance over the course of New Year's Eve. De Niro will play a bitter dying man in a hospital. Pfeiffer will be a frustrated executive secretary who decides to tackle her unfulfilled resolutions. Swank would play a producer of the famed Times Square New Year's Eve show. Kutcher would play a guy who hates New Year's Eve.