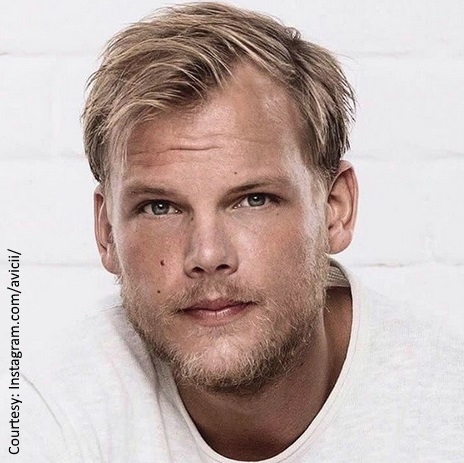 World-renowned, Grammy-nominated DJ Avicii, real name Tim Bergling, 28, died Friday in Muscat, Oman. His publicist confirmed the news in a statement to Billboard.
"It is with profound sorrow that we announce the loss of Tim Bergling, also known as Avicii. He was found dead in Muscat, Oman this Friday afternoon local time, April 20th. The family is devastated and we ask everyone to please respect their need for privacy in this difficult time. No further statements will be given."
In January 2012, he was hospitalized for acute pancreatitis, reportedly due to heavy drinking. In 2014, he had his gallbladder and appendix removed. Avicii announced in 2016 that he was retiring from touring and live DJ as he suffered from health problems. Although he stopped touring, he continued to release music.
He told The Hollywood Reporter in 2016: "To me it was something I had to do for my health. The scene was not for me. It was not the shows and not the music. It was always the other stuff surrounding it that never came naturally to me. All the other parts of being an artist. I'm more of an introverted person in general. It was always very hard for me. I took on board too much negative energy, I think."
His most recognized song, Wake Me Up, was a multi-platinum success and held the fourth spot on Billboard's Hot 100 chart. His cause of death is yet to be determined.
Following the heartbreaking news of his untimely death, his fellow artists, celebrities and friends shared their sadness at the loss of the young producer, who began making hits at just 16 years old. Calvin Harris, Rita Ora, Charlie Puth, Steve Aoki and Liam Payne are among the celebs who paid tribute to Avicii on social media. ~Marriska Fernandes
Devastating news about Avicii, a beautiful soul, passionate and extremely talented with so much more to do. My heart goes out to his family. God bless you Tim x

— Calvin Harris (@CalvinHarris) April 20, 2018
Oh my god truly devastated for Avicii very very sad news way to young … what a talent he was. rest in peace x

— Liam (@LiamPayne) April 20, 2018
I have no words. I remember how amazing it was to make Lonely Together and it felt like just yesterday we were talking. Condolences to Avicii's family, friends, and the fans who supported him. May he rest in peace. Gone too soon. I'm devastated. Heartbroken.

— Rita Ora (@RitaOra) April 20, 2018
Wow, I would like to take a moment to pay tribute to the man who really opened my eyes as to what my productions could one day sound like. @Avicii was a genius and a music innovator, and I can not believe he is no longer with us. RIP to the very best.

— Charlie Puth (@charlieputh) April 20, 2018