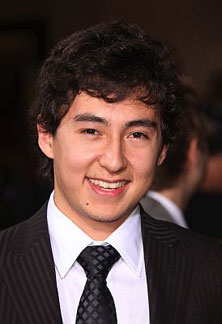 Tyson Houseman is living the dream. On his very first audition he landed a movie role that thousands of actors would've jumped at the chance of getting. That movie was The Twilight Saga: New Moon—starring Kristen Stewart, Robert Pattinson and Taylor Lautner—and the role is that of Quil Ateara, a member of the now-famous Twilight wolf pack.
A native of Edmonton, Alberta, Houseman recently spoke with Tribute's Toni-Marie Ippolito about his character in the follow-up, Eclipse; the dedicated fans and his grueling wolf pack workouts!
So much happens in the book Eclipse. What can we expect from the movie?
Houseman: Well, for me, Eclipse was my favorite book so this movie is so exciting for me. My character gets a lot bigger in this one. He gets to be in all the wolf pack scenes. You get to see me without my shirt on so that's really cool! There's going to be a lot of action scenes and it will be a lot more guy-friendly. There's a whole war that happens in the end so it's going to be great.
How did you prepare for your role this time around?
Houseman: Well, the preparation for me into a wolf, it kind of helped to have the workouts with the other wolf pack members. It helped us bond as friends and it really helped me to get into the whole wolf pack mentality. It was really cool to have that going into filming, having that friendship and that certain comfort zone with each other.
Did you go through any gruesome wolf pack training to beef up?
Houseman: It was really tough stuff! It was never the same. Every morning we were dreading the workouts because we never knew what to expect. Then we would find some contraption, like a rowing machine that we would have to do and it would be so grueling and so hard. A lot of it had competitive stuff to it like push up competitions or sit-up competitions.
Who was the most competitive?
Houseman: We all got big adrenalin bursts at certain points and we all had different edges of competitiveness. Sometimes one of us would be way too tired to do something and would lose first.
Did you ever think the Twilight series would get this big?
Houseman: No, it was all very new to me. This was the first film I've ever worked on and the first film audition I've ever been to. So I definitely jumped into the deep end of the pool and really didn't know too much about this. The casting call didn't even mention what film it was for! It just said it was for a major motion picture. But the fans somehow found out about it so there ended up being a huge line up that was about four or five blocks long. It was a lot to take in at first.
Do you have any crazy fans?
Houseman: I haven't had too many crazy encounters! You would expect it to be just only teenage girls approaching you but I've had little girls who are too scared to walk up to me because they think I'm really a werewolf. There was this other time when I was at a bar and this really old lady who was like 70- or 80-years-old came up to me because she recognized me from the movie and she was a really big fan!
How did you feel about the casting process being specific about you guys having native heritage?
Houseman: I thought that was really cool. It helped as actor to get into the character because I had so much to relate to. Quil is a native and so am I, so I could relate to similar experiences in my life and it was really cool having that.
What was it like working with David Slade?
Houseman: I really liked him. He is very meticulous about the little details and if something wasn't quite right he had to tweak until it was. You could tell there was a strong devotion there to the book.
Speaking of the books, did you get to meet Stephenie Meyer?
Houseman: Yeah, she came to the set a lot of the days I was filming and it was really fun having her there, watching.
How much was she involved on set?
Houseman: She kind of sort of sat back and just watched. She trusted what was going on and she trusted the people that were working on it and that it was going to be great. Personally, I think that the movie has translated really, really well from book to film.
What do you think is better: Wolf or Vampire?
Houseman: Oooh… I'm going to have to stick with my pack and say wolf!