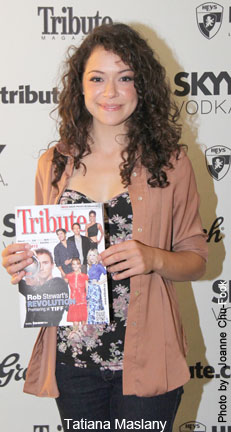 Hold on to your light sabers, Star Wars fans, there's a new film coming your way – and it's not Star Wars: The Force Awakens (which, by the way, is set for theatrical release December 18, 2015.)
This new film will be one of two stand-alone spinoffs and, while the plot is yet to be confirmed, actresses are already being screen-tested by film director Gareth Edwards.
Among those being considered are Orphan Black star and Canadian Tatiana Maslany; The Girl with the Dragon Tattoo star Rooney Mara; and Oscar nominee and The Theory of Everything star Felicity Jones.
It is uncertain what role Gareth is casting for since the plot is being protected by a Royal Guard, but word around the water cooler is it's a female bounty hunter, possibly a new character. However, Disney CFO Jay Rasulo has previously said it would be an origin story, so it looks like we'll just have to wait for the trailer.
Gareth is also on the hunt for a new writer after Gary Whitta exited the project after handing in his first draft. Gareth will have to find one at the speed of light – the current release date is December 16, 2016. ~Sandra D. Sukraj