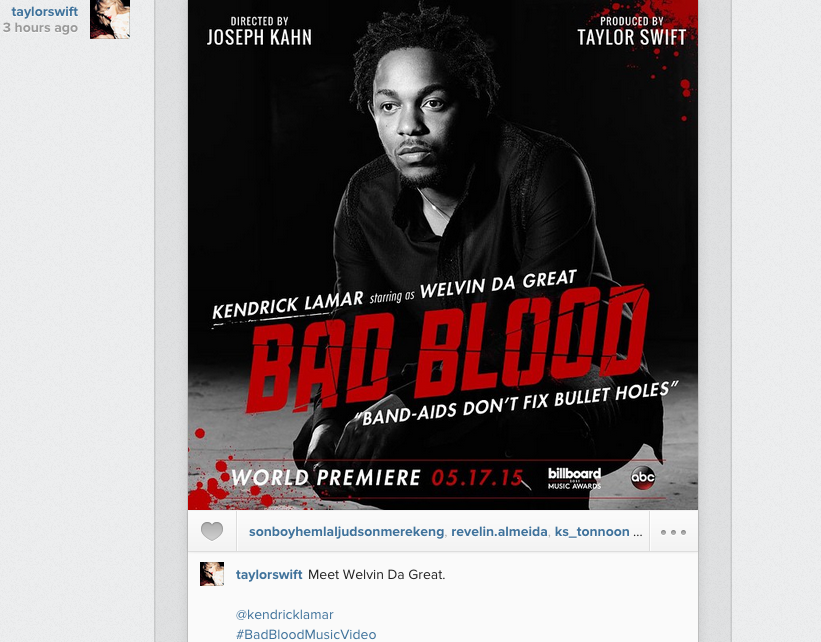 Taylor Swift seems to have more famous friends than anyone in Hollywood, having been best friends with Selena Gomez for years and always being praised by many for her sweet charm and likeable character. She is now taking those friendships and using them for one awesome project.
Taylor has had the social media world buzzing after posting numerous movie poster photos of her famous friends, who have been cast in her upcoming music video. In what is sure to be a YouTube sensation, her music video for her next single 'Bad Blood' is being directed by Joseph Kahn and produced by the pop star herself.
She has recruited a slew of her famous friends to star alongside her. The blonde beauty posted a photo of herself on May 7 with the caption "Meet Catastrophe." The photo looks like a movie poster and shows Taylor posing in a black leather jacket with an intense stare.
After the photo of her character was revealed, she started to post other posters of the cast, including so far: Victoria's Secret Angel Lily Aldridge as Frostbyte, Disney star Zendaya as Cut-Throat, Paramore's Hayley Williams as The Crimson Curse, model Gigi Hadid as Slay-Z, singer Ellie Goulding as Destructa, actress Hailee Steinfeld as The Trinity, Girls actress and producer Lena Dunham as Lucky Fiori and most recently, the first male, artist Kendrick Lamar as Welvin Da Great.
The world premiere of the music video is set to take place during the Billboard Music Awards on May 17. The large cast of famous artists, models and actors is sure to bring in viewers.
The song 'Bad Blood' is rumored to be based on the strife between Taylor and Katy Perry. The two have made headlines in the past year with Katy's apparent attempts to sabotage Taylor's tour and making negative comments to her, but neither have officially spoken out or named names over the incidents. ~Erin Stewart