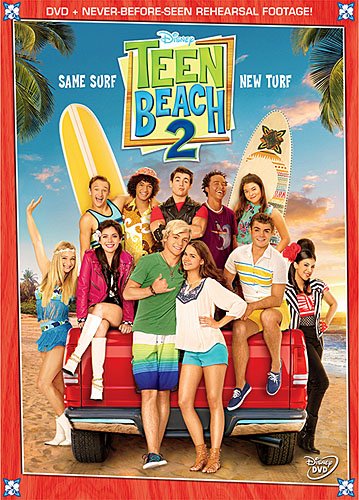 Teen Beach Movie was a hit when it was released on Disney Channel and Family Channel two years ago. It's the second-most watched movie in cable history, after Disney Channel's 2007 TV movie sequel, High School Musical 2.
That's why a second movie was in order, starring the same cast as before – Ross Lynch from the hit Disney Channel series Austin & Ally and Maia Mitchell of ABC Spark's The Fosters.
Teen Beach 2 picks up where Teen Beach Movie left off – Brady (Ross) and Mack (Maia) are back from their adventure in the first installment, when they accidentally were swept into Brady's favorite film – a 1962 beach movie called Wet Side Story.
Now, it's the first day back at high school, and they're drawn apart when Mack gets involved in an organization to help the ocean and attends a college fair to discuss where she wants to go to study marine biology. Brady begins to feel he's not smart enough for her, because he's unsure about his college plans. He keeps his hobby – making unique, handcrafted surfboards with special functions – a secret from her.
When Lela (Grace Phipps) and Tanner (Garrett Clayton), the stars of Wet Side Story, wash up on the shore, Brady and Mack can't believe their eyes. As it turns out, Lela was so fascinated by Mack's independence and her ambition to do something special with her life, that she's decided she wants more out of life too.
Brady and Mack scramble to keep them from being too noticeable and try to get them to return to the movie, because as it turns out, there could be dire consequences for all involved.
Ross Lynch again steals the show with his charm, his incredible singing range and dance ability. The dance numbers have been stepped up a notch in difficulty and the songs are even more catchy than the ones in the first one (although there are some songs that cross over, which is a nice touch). Ross wrote one of the songs, On My Own, which he sings while playing acoustic guitar in a scene that gives viewers a chance to breathe before the crazy antics of the '60s crowd starts up again.
Maia Mitchell also does a wonderful job reprising her role as Mack. As Lela, a girl who's really only a two-dimensional movie character, Grace Phipps gives us a performance that shows her changing into a three-dimensional being who really grows on you. Tanner, played by Garrett Clayton, almost steals the show with his swagger, high-pitched laugh and super-charged energy.
The movie releases on Family Channel and Disney Channel on Friday, June 26, the same day the DVD releases. There's only one bonus feature on the DVD, but it's definitely worth watching: Cast Dance Rehearsals, which talks to almost every cast member, including John DeLuca (Butchy), Chrissie Fit (CheeChee) and Mollee Gray (Giggles).
Included with the DVD is the pearl necklace that Lela gave Mack in the last movie. When Mack loses it, it washes up on the shore of the '60s movie beach, and Lela wears it through most of the new movie. It carries significant meaning, and most young fans will be thrilled to have this memento of the movie to wear this summer. All in all, this is a great movie to watch for the entire family.