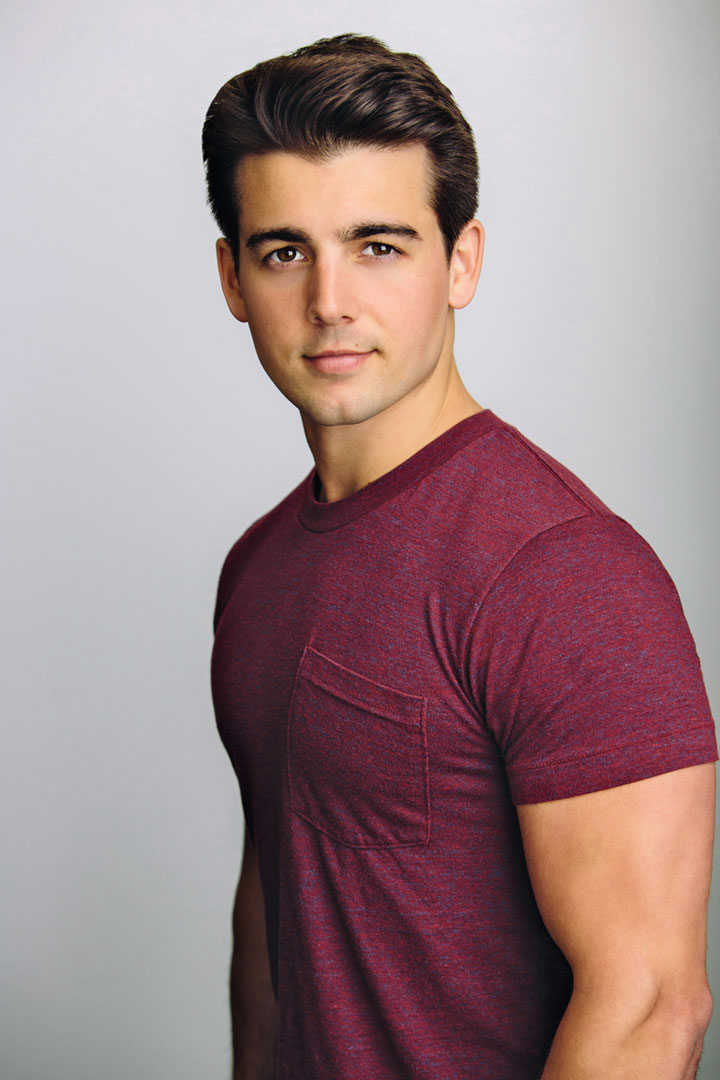 John DeLuca, who plays Butchy in Teen Beach Movie and in the sequel, Teen Beach 2, spoke to us this week by phone about his experiences filming the Teen Beach movies and about his upcoming films, including a starring role in Paramount's Staten Island Summer, produced by Saturday Night Live creator Lorne Michaels and co-starring Ashley Greene and Method Man.
If you haven't seen the Teen Beach movies, John plays a character in a 1962 movie within the movie, called "Wet Side Story" – a combination of West Side Story and the Beach Blanket movies starring Frankie Avalon and Annette Funicello.
How did you get interested in acting?
It's just always been something that I've loved to do. Ever since I was a kid, I loved being up in front of people, I loved making people laugh, I never had any stage fright. I grew up as an athlete who just kind of in the back of my brain, wanted to do this and it wasn't until my senior year of high school that I finally decided that it was time to do my first audition so I auditioned for my senior class play, which was The Wizard of Oz and that set everything in motion.
Have you done any professional stage musicals?
No, but I've done community theatre. I'm more an actor who can dance and sing if I absolutely have to (laughs). I studied theatre in college, but I studied drama, but I don't have that Broadway voice and I'm not a trained dancer or anything like that. I identify mostly as an actor first and foremost.
I could tell that while watching Teen Beach, because rather than a caricature, you portrayed Butchy like he was a real person stuck in a strange situation.
Well, thank you! All the characters [in the '60s movie in Teen Beach] are an archetype of some sort, but the challenge is always to find a ground and a reality in the character so I'm glad that came across.
What was the most fun you had making the Teen Beach movies?
Just to be able to shoot on location in Puerto Rico with a bunch of your friends. It's a dream come true. A lot of us grew up watching musicals like Grease and West Side Story and movies like that. I never in a million years thought I'd be part of any sort of musical, let alone something that would be seen by so many people and loved by so many.
What was the biggest difference filming the second one as opposed to the first one?
I think the biggest difference was that when we showed up to do the first one, we had no idea what we were making. We knew we were doing this fun project but we had no idea what it was. When we showed up in Puerto Rico for the second time, even just from like a fan reaction, people were at the airport waiting for us and we knew kind of what we were a part of. It made the whole thing a little bit more exciting and there was this energy in the air all the time, so I'd say that was the most significant difference.
Who did you hang around most with on set?
Actually, we were all kind of together most of the time. We had the weekends off, which was great. We stayed at this nice hotel; they had a pool and it was on the beach and I mean we hung out together, it was a big Teen Beach family I guess you could say, just kind of running around on the beach, playing in the pool and we all had friends and family come visit. We were all pretty deep wherever we went.
I heard you were quite a prankster on set, what was the best prank you pulled?
Oh, I don't know who's dishing you this information (laughs). I've always been kind of like a clownish sort of person who likes to mess with people. I never performed huge intricate pranks; it's more just me like sneaking into people's trailers and stealing their clothes, or moving their set chairs or you know, taking SeaCat's hat, or pretending that Jordan Fisher's hair is a wig and trying to pull it off in front of kids.
It sounds like you had a lot of fun! Tell me about your new movie, Staten Island Summer.
Staten Island Summer is something I'm really excited about. It's a Paramount movie from Lorne Michaels. It's about a bunch of lifeguards in Staten Island and I play Anthony, who wants to join the navy, but he's just not really the smartest guy in the world. He's got the physicality down, but he's having trouble passing the test. It's kind of like a raucous summer comedy and I had the pleasure of working with a lot of very, very talented, funny people, some of them from Saturday Night Live. It was an incredible experience.
What do you like to do in your spare time?
I play basketball or football with my friends, pick up games of any sport really. I go to the beach, I watch a lot of movies. I don't see my family as much as I'd like but I try to travel back to Massachusetts when I can.
What's been your favorite movie or TV experience so far?
Oh, man that's tough. It's going to have to be a mixture of Teen Beach and Staten Island Summer. I appreciate them both so much as opportunities and educational experiences in their own right. Both offering something different and unique. They were both such incredible experiences and I'm just very thankful that I've been able to be a part of both.
Is there any talk of a Teen Beach 3?
I don't think anyone's said anything official, but I think we'd all be down to do one, if they called for it. Fingers crossed, I guess. We're all really proud of the way the second one came out. I think when you have a big success the first time around, everyone's a little hesitant to see how a sequel will go, but I think we managed to do something pretty special with the second one.
Definitely. What would be your dream role?
I've always wanted to be part of an epic period piece. Braveheart is one of my favorite movies and to be part of an epic sprawling period film is on my bucket list. Something with some grandeur to it, a really awesome score, something that's just kind of moving, you know.
What's next for you?
I did an indie called Chalk it Up, it's set in the world of college gymnastics and a couple of the girls from Disney's Stick It got together and wrote this film. I'm really excited about it. I grew up doing a little bit of gymnastics as a kid but never to the level of some of these professionals and to be on the set with these insanely talented gymnasts was really, really cool to watch and be part of.