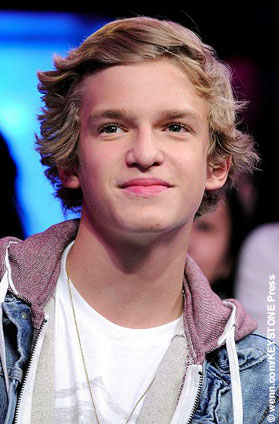 Australian teen sensation Cody Simpson, 14, arrived in Toronto on Tuesday and spoke to Tribute by phone as he was driving through the city on his way to perform selections from his hit EPs Coast to Coast and 4U at MuchMusic's New Music Live. He also signed copies of his CDs at Chapters Indigo John and Richmond. Growing up in Queensland, Australia, Cody was inspired by watching his dad play guitar and sing for friends and family at parties and backyard barbecues. Cody asked for his own guitar and at seven, he began taking guitar lessons. Soon after, he wrote his first song. In August 2008, Cody launched his own YouTube channel and began posting videos of himself performing. He received millions upon millions of views, which got the attention of a music producer in the States. In April 2010, Cody signed with Atlantic Records and released his debut single, "iYiYi." Cody, who now has over 99 million YouTube views, as well as 1.4 million Twitter followers and over 1.8 million Facebook likes, has relocated to Los Angeles with his parents, his brother and sister. Tribute was given the opportunity to talk to him about his meteoric rise to fame.
A lot of people put videos of themselves on YouTube but they don't get the views or the attention that you got. How did it happen for you? How did so many people start clicking on your videos?
CS: That is honestly a question I can't really answer. It's something that happened very quickly and very naturally. I'm not necessarily sure. I guess word of mouth. I did work hard at making the videos. It's been a crazy ride and I know that lots and lots of people post videos online but I'm not really sure how mine stood out to certain people when it came to the U.S. and when I got in the studio and signed my record deal.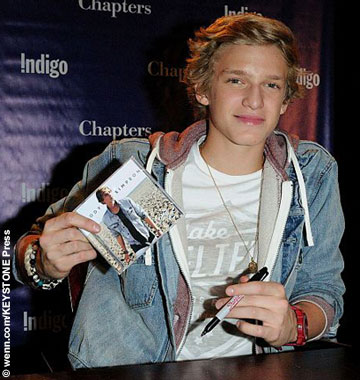 You're living in L.A. now — how do you like it there and is there anything you miss about Australia?
CS: I think the one thing I miss about Australia the most is my friends and my family. It's definitely the main thing that I really don't have access to in the States. I keep in touch with them on the phone every day and try to make sure I'm on top of it as much as I can because I really don't want to lose contact with my good friends and my family. I also miss being able to go to the beach a little more than I can now.
Does your immediate family come with you on tour?
CS: Yes. Well, whenever we're traveling internationally on big trips, my family will come with me and whenever I'm doing smaller trips and I'm not going too far away, I'll just go with my dad and the rest of the team.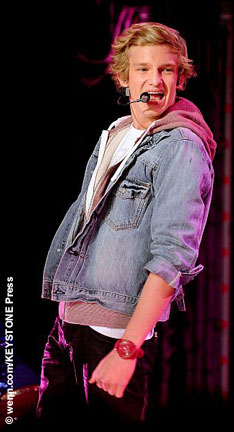 Where do you get your inspiration when you write a song?
CS: I like to write songs about what I've experienced. I think it's important to be able to write stuff that's personal to you and stuff that you'll really be able to understand what you're singing about and be able to truly sing it. Because if you're singing a song that someone's written for you and you really can't relate to it, it's hard to sing that song and I try to make sure that even if it's a song that I didn't write, I'll alter some of the lyrics or the concept to make it me. I want my music to be able to tell a story about what I've experienced and what I think my fans will be able to understand also.
You said your song IYiYi is "about liking a girl and missing her when she's not around." Do you have a girlfriend?
CS: No, I don't. Not at the moment.
What was your summer camp tour like? Did you ever go to summer camp yourself?
CS: No, we don't have that back in Australia.
You don't have summer camps in Australia?
CS: No. I went on the summer camp tour a little more than a year ago and that was my first time going out on the road and performing. They were my first ever performances. It was cool to be able to go out and sing to kids. I've obviously done a lot more of that since then but it was cool to have my first experience like that out on the road. 
You're cutting some pretty cool moves in your music videos. Have you had dancing lessons?
CS: No, I never actually had dancing lessons back home. Or over here. It was strange, because it was my 11th birthday when I first danced. It was my first ever party and we were playing hip hop music with a strobe light and everything and it was strange because all of a sudden I started dancing — it was something that I'd never done before and something I discovered in myself at that time. All my friends and family, they were like, 'We've never seen you dance.' I was very casual about it and after that, I taught myself a new move only every six months or whatever because I was going to school and concentrating on different things. But then when I came to the U.S., something I really had to deal with was dance. I started working with a choreographer and then it happened from there, I guess. 
Have you thought about doing some acting?
CS: Yes, and I'm in the studio probably for the next two weeks and going back in January to finish up my first full length album and once that's been released and I've established my music and my sound I think it'd be cool to get into acting, but after I release the album. 
What's the weirdest experience you've had since your career took off?
CS: Man, I could probably go on for days! I've had tons of crazy experiences with fans and stuff. My fans are so dedicated. I'm actually driving past a bunch of fans right now. Whenever we come to shows we always park in private areas and then we'll come back after the show and our car would be covered in lipstick stains all over the windows. And I'm like, 'How does this happen? How do people know [that it's the car I arrived in]?' But it's awesome that my fans are so dedicated, you know, it's really cool. ~Alexandra Heilbron
Cody's new song Ay Na Na just debuted — you can hear it below: