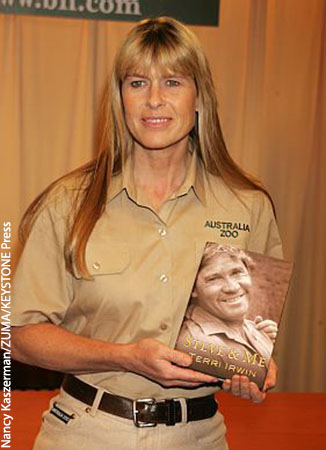 It's been almost a decade since Steve Irwin, a.k.a. "The Crocodile Hunter," died at the age of 44 after a stingray struck him in the chest with its barb.
But that doesn't matter to his widow, Terri Irwin, who revealed to The Australian Woman's Weekly that she hasn't gone on a single date since the death of her beloved husband in September 2006.
"I haven't been on a single date since Steve died," Terri admitted in the interview. "If I hadn't met Steve, I probably would never have married because I wasn't looking for love when I met him. What we had was incredible."
Steve and Terri were married in 1992, and broadcast the series of popular wildlife documentaries called The Crocodile Hunter. They also co-starred in a movie called The Crocodile Hunter: Collision Course, and owned and operated Australia Zoo (which Terri still owns and runs). Together, they have two children — daughter Bindi (1998), and son Robert (2003), who both help at the zoo. Bindi is a celebrity herself, having starred in several TV series and the movie Free Willy: Escape From Pirates Cove. In 2015 she made headlines when she was crowned champion of the competition TV series Dancing with the Stars at the age of 17.
Terri released a memoir titled Steve & Me in 2008 (pictured above), which became a New York Times bestseller.
Last year, Terri told Entertainment Tonight that she's already had her "happily ever after," and being single doesn't bother her.
"I still feel immense love and loyalty to Steve. And I've got great kids, I've got a very full life, and while I'm lonely for Steve, I'm not a lonely person." ~Natalia Makarski