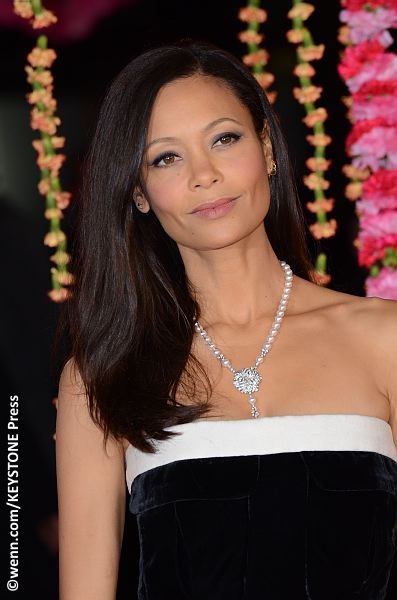 In a revealing new interview with W Magazine, Thandie Newton made the shocking revelation that she was once sexually abused by a director early on in her career.
The actress, who's best known for her roles in the critically-acclaimed dramas Crash and For Colored Girls, recounted the traumatic audition that unknowingly led to her taking more projects dealing with tough issues like racism and violence against women.
"A director, on a callback, had a camera shooting up my skirt and asked me to touch my t–ts and think about the guy making love to me in the scene," she said. "I thought, 'OK, this is a little weird,' but there was a female casting director in the room and I'd done weird stuff before so I did it."
She then recalled a strange encounter with a drunken producer at a film festival years later.
"[He said] 'Oh, Thandie, I've seen you recently!'" the star told W Magazine. "And he lurched away looking really shocked that he'd said that."
Her husband of 18 years, Ol Parker, immediately questioned the man, and "It turns out that the director was showing that audition tape to his friends after poker games at his house. And they would all get off on it," she revealed.
Thandie did not name the director, producer, or the movie for which she auditioned, but she did say that the episode taught her a lot about using her voice.
"I was so so naïve when I started out and I realize now that we have to prepare our kids — I've got two beautiful daughters, one is 16, one is 11. So many people in our business, they don't want to be the ones to say something that's a bum out because then they become associated with a bum out and nobody wants to read about so-and-so because they're always blabbering on about a bum out," she said. "But one person will read this and it will stop them getting sexually abused by a director. That's the person I'm interested in."
Do you think it's important for more actors and actresses to speak about this type of abuse? Let us know in the comments! ~Shelby Morton