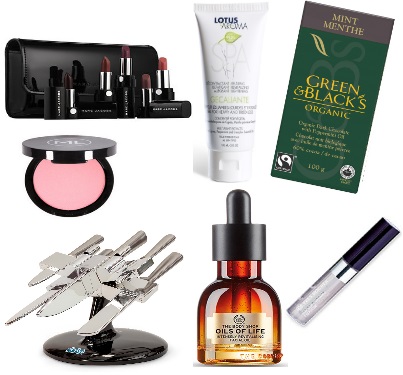 Thanksgiving is just around the corner and while you might be going to one, two or one too many dinners, gifts are a thoughtful way to show your gratitude. Here's a few gift ideas for your hostess, family and for you to indulge, of course.
The Body Shop's Oils of Life collection is new and just about the perfect way to give thanks. The intense revitalizing skincare collection is infused with rosehip oil, black seed oil and camellia seed oil. The Intensely Revitalizing Essence lotion, Facial Oil, Cream and Gel Cream is just one way to say thanks to your loved ones.
Your lips are moving! Marc Jacobs' The Sofia- Five Piece Petites Le is a giftable collection of five deluxe size lipsticks that will make any beauty lover grateful to have a friend like you! Promise.
Green & Black's Organic Chocolates are a devilishly good way to enjoy the start of the holiday season. Mint chocolate fans will jump for joy as the new bar is a perfect balance of wintery, fresh peppermint. It counts as comfort food, right?
Yves Rocher is all about eye transformations this season as their new makeup is colorful and vibrant, inspired by botanicals. The Botanical Eye Pencils and the Top Coat For Eye Makeup are two pieces that will make you ready for any Thanksgiving party.
ModelLauncher's new Illuminating Finishing Powder is just what you need before you hit the Thanksgiving family dinners. The Rosey colored powder will add a light blush on just about anyone.
Star Wars fans, time to geek out! The Star Wars X-Wing Knife Block makes the force strong in the kitchen. Thanks to Underground Toys, this is Luke's knife block – it looks just like an X-Wing. So how about that Thanksgiving turkey?
Lotus Aroma's Gel for Tired and Heavy Legs has the highest concentration of essential oils which can be used to soothe pain in the home or at the office. Maybe a thoughtful gift for a friend or co-worker?
Make the most of your Thanksgiving with some of these suggestions and we hope you are looking forward to this day of thankfulness as much as we are!