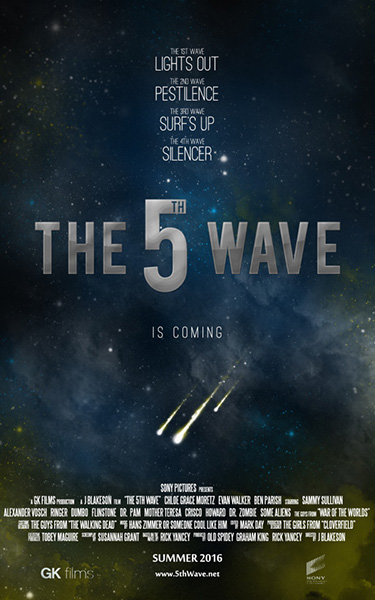 Chloe Grace Moretz wins again. Her apocalyptic thriller The 5th Wave stands tall as Tribute's most-watched trailer for the second week in a row. The second trailer for the historical drama The Finest Hours landed at number two, pushing The Revenant down to the third spot. The comedy Dirty Grandpa and the spoof Fifty Shades of Black round out the top five this week. Check out all the top trailers below: 
1.) The 5th Wave
2.) The Finest Hours
3.) The Revenant
4.) Dirty Grandpa
The 5th Wave- After four waves of deadly attacks devastate most of Earth, Cassie (Chloë Grace Moretz), 16, goes on the run to find her younger brother and prepare for the fifth and final wave, in which there is little hope of survival. She then comes across a young man who may be able to help, but she's not sure she can trust him.
The Finest Hours-  During a fierce storm, the U.S. Coast Guard is called out to save an oil tanker that's split in two off the coast of Cape Cod. Several boats are sent out for the rescue when another oil tanker, the SS Pendleton, is also spotted in danger just off the coast. Bernie (Chris Pine) is sent out with three other men on what's called a "suicide mission" to save the sailors on board the Pendleton. Based on the true story of the Pendleton Rescue.
The Revenant– In the 1820s, frontiersman Hugh Glass (Leonardo DiCaprio) is brutally attacked by a bear and left for dead, deep in the uncharted American wilderness by members of his own hunting team. Guided by sheer will and the love of his family, Glass navigates a hostile environment, a frigid winter, and unfriendly Native American tribes in his quest to survive.
Dirty Grandpa– Right before his wedding, straight-laced Jason Kelly (Zac Efron) is coerced into driving his foul-mouthed and perverted grandfather Dick (Robert De Niro) to his Florida vacation home. Little does Jason know, Dick has other plans for their trip. On the way, they run into some girls who invite them to Daytona Beach for Spring Break, a detour to which Jason warily agrees. What follows is a rampage of drugs, alcohol, gratuitous nudity and sex — definitely not the road trip that Jason, or even Dick, thought it was going to be.
Fifty Shades of Black-  Written, produced by, and starring Marlon Wayans (of Scary Movie fame), Fifty Shades of Black is a parody of the 2015 erotic romance film Fifty Shades of Grey. Hannah (Kali Hawk), an awkward student, goes to interview Christian Black at his Black Enterprises office building for her school newspaper. Despite the fact that he made his money through shady means (and a stint as a male stripper), she falls for him, but discovers he's not looking for romance.