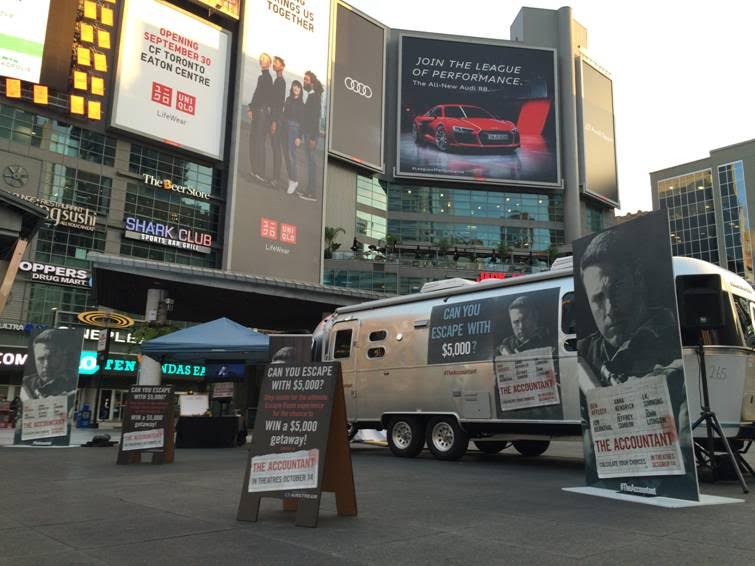 In anticipation of the upcoming release of The Accountant next Friday, Warner Bros. invites you to pull off the ultimate heist in a one-of-a-kind mobile escape room in Toronto this week only!
From today until Thursday (October 4 to October 6), anytime from 11 a.m. to 7 p.m., make your way over to Yonge-Dundas Square and step inside a themed Airstream trailer for a chance at a $5,000 getaway.
Once inside the trailer, your skills will be put to the test — you'll have just eight minutes to solve a series of clues and decipher the code to unlock the safe containing $5,000, helping protagonist Christian Wolff escape with the goods.
If you succeed in the task, you will be entered into an onsite draw for a chance to win the getaway. However, if you fail, you will be greeted with the blaring sounds of police sirens. Either way, it's definitely not a bad way to spend the day. And the best part — it's completely free!
Directed by Gavin O'Connor, The Accountant follows math savant Christian Wolff (Ben Affleck) who's working as a freelance accountant for some of the world's most-dangerous criminal organizations. But when he takes on a legitimate client — a state-of-the-art robotics company — in order to avoid the looming threat of the Treasury Department's Crime Enforcement Division, he finds himself in an even more dangerous (and deadly) situation when an accounting clerk (Anna Kendrick) discovers an error in their books, worth millions of dollars.
The Accountant, which also stars J.K. Simmons, Jeffrey Tambor and Jon Bernthal, hits theaters on Friday, October 14.