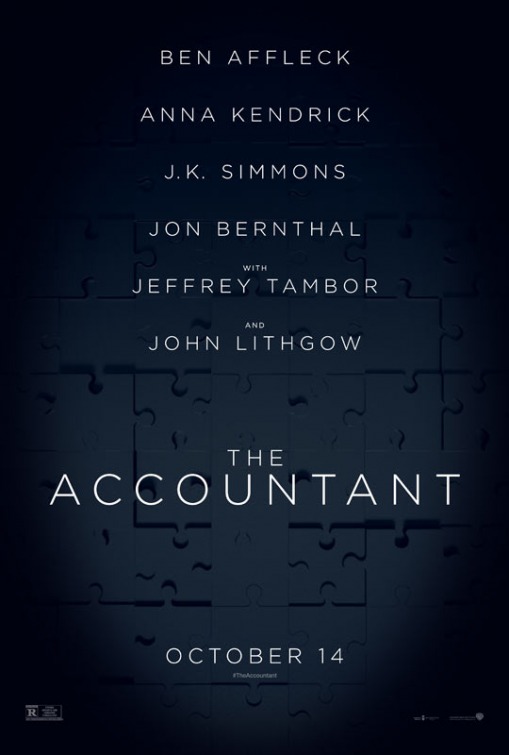 A fierce battle between two Hollywood heavyweights ensued this week for the coveted top trailer title, but The Accountant had the numbers on its side to give Ben Affleck the victory over Tom Cruise in Jack Reacher: Never Go Back.
It was The Accountant's second trailer that slipped by Jack Reacher's only official trailer for the win. Doing its best to keep up with the leaders of the pack, the first trailer for Keeping Up with the Joneses grabbed hold of the third place position, while the second trailer for The Girl on the Train stayed on the tracks for fourth. It was the second trailer for Miss Peregrine's Home for Peculiar Children that locked out competitors and secured the final spot on this list.
Here are the top five trailers this week:
1. The Accountant
2. Jack Reacher: Never Go Back
3. Keeping Up with the Joneses
4. The Girl on the Train
5. Miss Peregrine's Home for Peculiar Children
The Accountant- Christian Wolff (Ben Affleck) is a math genius with an obsessive personality who works in a small town office as a cover for his real job as a freelance accountant who "cooks the books" for dangerous criminal organizations. When Ray King (J.K. Simmons), the head of the Treasury Department's Crime Enforcement Division, takes an interest in his activities, Christian takes on a legitimate client to throw them off. Dana (Anna Kendrick), an accounting clerk who works for the company, has discovered a discrepancy involving millions of dollars. Before going public, they hire Christian to find the missing money. As they get closer to the truth, bodies begin to pile up.

Jack Reacher: Never Go Back- When Jack Reacher (Tom Cruise) returns to the headquarters of his old military unit, he finds out his former Army Major, Susan Turner (Cobie Smulders), has been arrested for treason. Believing her to be innocent, Jack must break her out of prison in an effort to discover the truth. Meanwhile, Jack is framed for the murder of an old acquaintance, and when he discovers her 15-year-old daughter Samantha (Danika Yarosh) is in danger, he goes on the run with the girl and Turner, as they uncover a conspiracy that is bigger than all of them.

Keeping Up with the Joneses- Suburban couple Jeff (Zach Galifianakis) and Karen (Isla Fisher) live normal, boring lives. That is, until the Joneses move next door. Tim (Jon Hamm) and Natalie Jones (Gal Gadot) are accomplished at everything. They're stylish and poised. Too perfect, in fact. Karen decides to follow Natalie to see if she can find anything out about her, but when that doesn't work, she and Jeff break into the Joneses' house to see if they can find anything unusual. It turns out their new neighbors are covert operatives and before they know it, Jeff and Karen are involved.

The Girl on the Train- While commuting by train to the city, a divorced woman named Rachel Watson (Emily Blunt) finds some joy each day when she sees what she believes to be the "perfect" couple, Scott (Luke Evans) and Megan (Haley Bennett), and creates an imaginary fantasy life for them. However, when she later witnesses Megan kissing another man, it angers her, even though she doesn't actually know the people involved. The next day, when she wakes up with no memory of the night before and finds out Megan has gone missing, Rachel gets worried that she's somehow involved.

Miss Peregrine's Home for Peculiar Children- Following his grandfather Abe's death, Jacob (Asa Butterfield) goes to find the home where Abe said he spent time as a young boy during WWII. Once there, Jacob meets Emma (Ella Purnell), a resident of the home who takes him back in time to meet the rest of the "peculiar children." He also meets Miss Peregrine (Eva Green), who takes care of the children and protects them from Hollows — creatures who kill them for their eyes. As Jacob gets to know the children, he realizes he has more in common with them than he thought.