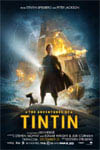 Paramount Pictures has announced that Steven Spielberg's film The Adventures of Tintin will be released in the province of Quebec on December 9th, making it the first North American opening of the highly anticipated film.
The Adventures of Tintin is directed by Steven Spielberg from a screenplay by Steven Moffat and Edgar Wright & Joe Cornish. Starring Jamie Bell (Billy Elliot, Defiance) as Tintin, the young reporter whose relentless pursuit of a good story thrusts him into a world of high adventure, and Daniel Craig (Quantum of Solace, Defiance) as the nefarious Red Rackham.
Based on the series of books "The Adventures of Tintin" by Hergé, the film is produced by Steven Spielberg, Peter Jackson and Kathleen Kennedy. It opens in the rest of Canada and the U.S. on December 21st.