Todd White comes from humble 1969 San Antonio roots. Born a Libra in the state of Texas, his mother was an art teacher who served him eggs for breakfast with the aroma of paint on the side. At the age of 20, opportunity arose to work as a clean-up artist for Tiny Toons Adventures, so White headed for Hollywood. His hard work paid off when he joined the design team of Nickelodeon's SpongeBob Square Pants, and his work in animation went on for 13 years. 
But an observational artist first and foremost, White found himself hanging out in both the glamorous and seedier sides of Hollywood cafes, night clubs and bars. And he would paint the social scenes he saw within them. By convincing local L.A. businesses to hang his "Rat Pack-meets-Picasso" style, he landed himself an agent. It also got him dubbed "America's Coolest Artist."
In 2007, the 49th Annual Grammy Awards commissioned White as their official artist. In 2009, Warner Bros. included his art in an exhibition celebrating the 70th anniversary of The Wizard of Oz. White, a sports enthusiast with a black belt in Brazillian Jiu-Jitsu, is now launching his first limited-edition book, The Art of Todd White.
What do you think of current television animation and who was your favourite Looney Tunes character?
Bugs Bunny, of course! Ren and Stimpy is also a favourite. And I may laugh a lot at Family Guy, but that show's about the writing as opposed to the animation. South Park is the same. Most shows today are just vehicles for something else, i.e. writers trying to break into the movies and take the animation route to get there. 
Some say you're the best thing to come out of the art world since Andy Warhol.
Art has been dismissed and going the way of wall decor and something to match the couch. I get emails from new fans and they all start off… "Mr White, I've never been interested in art, but when my wife brought home a piece of yours, I got it!" I suggest everyone find art they like and relate to it; be passionate about it! I collect Fillmore concert posters.  My office is full of them; Tom Waits, the Foo Fighters, the White Stripes. I'm really into Jack White and think he's the best thing since Kurt Cobain.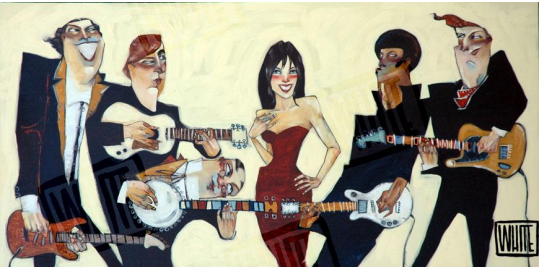 One of the best three compliments you ever received was from a female fan who said your paintings reminded her of Tom Waits. I'm a big fan of Waits and wonder, have you ever met him?
I was at the Cinerama Dome in Hollywood, for the Saturday matinee screening of Lawrence of Arabia.  During the intermission, I turned in my seat and behind me was Tom Waits sitting with his wife.
Get out!
I don't get star struck, yet I got nervous to my stomach! I had the Rain Dogs CD out in the car, so I ran out to the parking lot, ran back, and very quietly went up to him and said, "Mr Waits, I'm a huge fan." As I slipped a Sharpie from my sleeve, "Do you think you can sign this for me?" Waits says, (and with a perfect imitation of Tom Waits voice) "na, na, na, na, na, let's just shake hands and say we met."
Oh my god, you sounded exactly like Waits when you said that! Ha! (laughs)
About three years later, I'm running into the office of Hanna-Barbera where I was working on the show Boo Boo Runs Wild. From the corner of my eye, I notice this guy leaving the building. I didn't think much of it at first, but then I said, "You know, I saw a guy leaving the building and he looked just like Tom Waits." The guy drawing beside me said, "Yeah, that was Tom. Every Saturday I teach his kid how to draw, and Tom sits on that couch to wait for him." I said, "So is he coming back next Saturday?" "No," he said. "He's going on tour.  They're done."
Aaah! I really love the women in your work; the women and the wine. Are you some kind of wine connoisseur?
I try to paint women the way they really feel… "yeah, there's a tough side to me, but I'm really not once you get underneath." Wine connoisseur? No. I don't really like the taste of alcohol. And you know, I don't have a problem speaking my mind, whereas some people use alcohol as a lube; a social lube… hey, there's a theme for a painting … hold on, I gotta write that down… 
(laughs) It can also be used as whore lure.
Whore lure? (laughs) I like it! I'm big on women and there are a lot of them in my art. When my subjects drink, I like it, because they relax.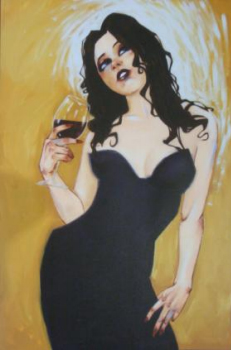 Unlike painting, writing a book is a completely different beast. But I understand you also get involved in the business side of things.
I consider myself a storyteller first. It's been two years in the making, and I've been involved in every aspect of the book. I'm not a micro-manager, but what I do is overly thought out and carefully planned. I'm very strategic. My secret? I copy Frank Sinatra.
I love Frank Sinatra! I've been threatening to have a martini party, but it hasn't happened yet because Iggy Pop hasn't confirmed his attendance.
(laughs)
Iggy Pop has to come because Keith Richards won't come without him, and I need Keith to bring the smokes. Gino Vannelli is bringing the olives.
Who's bringing the olives?
Gino Vannelli. He's a Canadian singer-songwriter. The plan is to get completely smashed watching episodes of Dean Martin Celebrity Roasts. Will you come? To observe… and paint it?
Absolutely!
(laughs) You don't happen to have Iggy Pop's phone number, do you?
I have Ronnie Wood's phone number.  That's the best I can do.
You were selected by the Diana Memorial Fund to paint Princess Diana. The unveiling of the portrait happened recently in London, didn't it?
Yes, two weeks ago. And I tell ya, I was so nervous! The painting was covered, and no one knew how it was going to go over. All these Brits were standing around and my agent said, "After the unveiling we'll either be having drinks, or getting on a plane." (laughs) But they liked it. I walked away feeling like I won the Super Bowl.
How has becoming a father affected your art?
Obviously my son comes first. But, I'm still very selfish. And I think I'm more sexually frustrated because I don't live out my wild fantasies like I used to. I put the frustration into the paint, and as a result I think my work comes across funnier and more scandalous than it did before. The truth is you always want what you don't have, but I wouldn't have the patience for those wild times now.
New York is well known for its role in the art world. How does the art world of Los Angeles compare?
New York has some pretty respectful galleries. It's fly-by-the-seat of your pants in Hollywood with no real galleries. But what's more, the internet has made it very difficult for art galleries.  
As it has for musicians, journalists, photographers and many others.
The internet has crushed industries. I think if people knew what they know now, they wouldn't have let the internet become as active as it is. 
Click here to enter to win a Meet and Greet with Todd White October 21st @ Liss Gallery in Toronto and "The Art Of Todd White" limited Edition book and prints.
Todd White will also be visiting Sheridan College Oakville on October 20, 2010.
http://www.sheridaninstitute.ca/About%20Sheridan/Search%20Results.aspx?q=todd+white
The Art of Todd White
http://www.toddwhite.com/default.aspx
The Liss Gallery website
http://www.lissgallery.com/index.htm
About Lisa McDonald: Otherwise known as Live Music Head, Ms McDonald is a vegetarian who enjoys practicing yoga and pilates, but it's an enormous passion for music that keeps her tapping away at a keyboard.  A freelance music writer living in downtown Toronto, Lisa is currently in conversation with entertainers, developing interview skills and publishing articles at web-based magazines.  She may be contacted at: livemusichead@yahoo.com