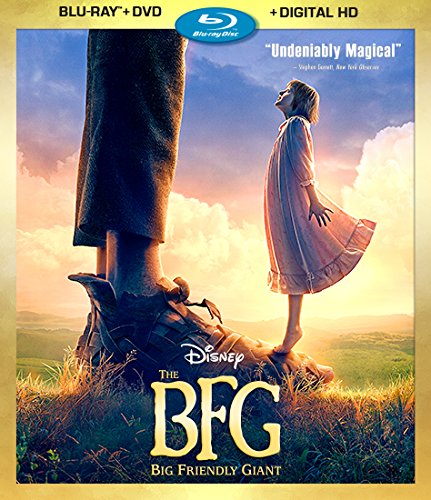 Adapted from Roald Dahl's classic children's book of the same name, The BFG is brought to the big screen by the combined powers of Disney and larger-than-life director Steven Spielberg. It's a visually stunning and faithful retelling of the beloved story about a little orphan girl and her big, friendly giant.
It all begins on a damp, cold night in 1980s London, where an insomniac orphan named Sophie wanders about her dusty and drab orphanage in anticipation of the "witching hour," which arrives promptly at 3 a.m. A time when everyone else is fast asleep and all the "dark things" come out of hiding, Sophie reads Nicholas Nickleby, ready for whomever (or whatever) may appear. However, on this particular night, Sophie discovers much more than just the boogeyman hiding beneath her bed. Hearing a strange sound from outside her window, she peaks behind the curtain to discover a 25-foot giant lurking in the shadows.
And suddenly, with one easy swoop of his leviathan-sized hand, the giant scoops up little Sophie and carries her all the way to his home in Giant Country. There he informs her she must stay with him "for the rest of their lives," lest she tell anyone about him. But the real reason he wants her there is because he's lonely. Sophie, whose parents died when she was a baby, is lonely too, and after a short while together, the pair truly come to enjoy each other's company. She helps him with his a lot-to-be-desired English (i.e. it's giraffes, not jiggyraffs) and he takes her on a tour of the out-of-this-world Dream Country, where he actually catches dreams.
But, unfortunately, all is not well back in Giant Country, as the giant, affectionately known by his friends as the "Big Friendly Giant," co-habitates with nine much larger, and much less friendly giants, who cruelly refer to him as "Runt." These giants — with names like Fleshlumpeater and Bloodblotter — also happen to eat "human beans," which obviously poses a problem for Sophie and the BFG's happily ever after.
Our heroine Sophie, played by newcomer Ruby Barnhill, is appropriately spunky and precocious. Even when faced with life-altering danger, Sophie has enough bravery to fill the whole of Giant Country, Dream Country, and Soho combined. Thanks to a pretty stellar adapted script from the late Melissa Mathison, Ruby offers up some of the wittiest moments in the film. Her wisdom and gumption works as a great contrast to the BFG's more doltish moments, and ultimately shapes their unlikely and wholly heartwarming friendship.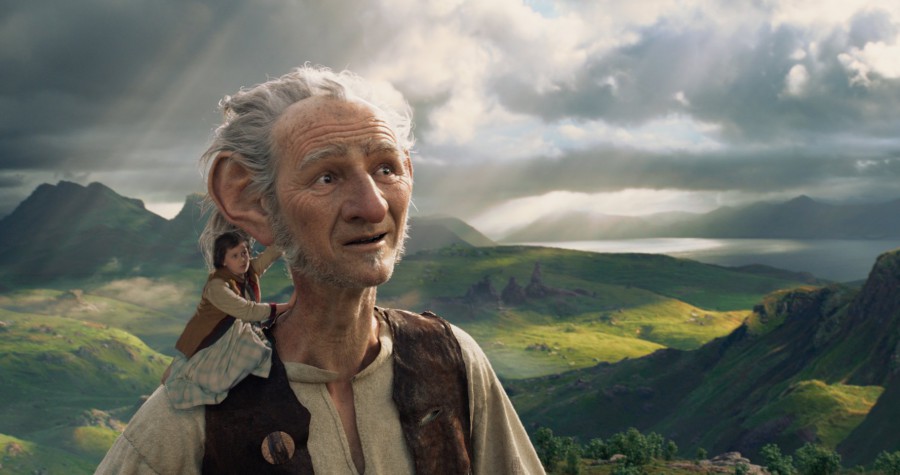 Granted, there were a few moments when Sophie loses her patience with big friendly — who is definitely not as eloquent as the 10-year-old orphan girl — and she does so for good reason. From "jiggered," to "delumptious," to "squibbling," to "glummy," the giant-gibberish the BFG speaks, known as Gobblefunk, becomes quite wearisome after a while. What was comical and endearingly bizarre on the page, didn't necessarily work so well spoken aloud for the better half of two hours.
Luckily, Mark Rylance is talented and emotive enough to save the on-screen BFG from becoming a ridiculous caricature of Dahl's written creature. The actor's signature gentleness and pliability, which rightly won him an Oscar for Bridge of Spies, was exactly what the character needed. His innate likeability worked to make the giant's transformation from docile "Runt" to courageous savior all that much more moving. And thanks to mind-blowing motion-capture technology, The BFG takes his regular ol' human performance to (literal) new heights.
It really is astonishing how lifelike the BFG is — his kindly, lined face showcasing every emotional nuance and expression that the non-animated, pint-sized Mark Rylance could muster. It's a testament to incredible work by the folks at Disney and the always-visionary Spielberg. Add in some remarkably intricate and kaleidoscopic visual effects by Weta Digital (Lord of the Rings and Avatar) and an operatic score by John Williams (E.T. The Extra-Terrestrial and Raiders of the Lost Ark), and you've got yourself one stunning cinematic achievement.~Shelby Morton
Blu-ray extras: Bringing The BFG to Life – takes a closer look at the making of the movie with its star Ruby Barnhill, The Big Friendly Giant and Me – a short about the friendship between the BFG and the little boy who lived in Giant Country before Sophie, Gobblefunk: The Wonderful Words of The BFG – a comprehensive tutorial on the BFG dictionary, Giants 101 – meet the frightening giants played by Jemaine Clement, Bill Hader and more, and Melissa Mathison: A Tribute.
If you'd like to rate and review The BFG, click here.