Toronto has been invaded by pirates!
Or at least that's how it appeared at the Grey Cup this weekend. To celebrate the release of Pirates of the Caribbean: At World's End on DVD on December 4th, a giant replica of the Black Pearl pirate ship was docked at the Via Rail Bremner Street Festival. Why bring the Black Pearl to Toronto during the Grey Cup? "We really wanted to bring a little bit of the Disney magic to what we consider to be one of the biggest events in Toronto this year," says Jonathan Hope, Vice President and General Manager, Walt Disney Studios Home Entertainment Canada. "We felt that the Grey Cup is such a great atmosphere, there's so much to do—a lot of activities for people of all ages and for that reason we were happy to be part of it."
The Black Pearl replica is certainly impressive. It took four people over four days to build the 40-foot long structure which consists of 70 foam blocks. It is about half the size of the Black Pearl used during production of the Pirates movies. To get the ship to Toronto from California, it had to be disassembled and pulled by four flatbed trucks. Toronto is one of four stops this year and the only stop in Canada, the others being San Diego, Los Angeles and New York.
Fans of Pirates of the Caribbean came by to get their photo taken with a Jack Sparrow look-alike and enter the "Talk like a Pirate" contest. The top five pirate wannabes competed in the "Pirate-Off" on November 24th which was judged by Toronto Argonauts linebacker Mike O'Shea. The winner received two tickets to the sold out Grey Cup game on Sunday.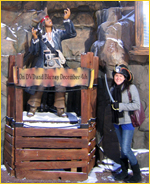 The Pirates movies have stirred up pirate fever over the last few years—inspiring fashion trends, Halloween costumes and even pirate attitude. "I think there's a little pirate mystique in all of us," says Hope. "I think [the movies] just re-awakened a universal interest in pirates, high-seas, adventure and action and I think it just struck a nerve with people."
Those who can't get enough of all things pirate will certainly want to stop by the Black Pearl display and experience the fun for themselves.