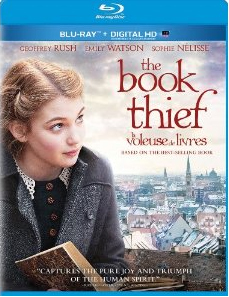 The Book Thief, based on the novel of the same name by Markus Zusak, opens with a narration by Death (Roger Allam), describing how the actions of Liesel Meminger (Sophie Nélisse) have piqued his interest. Liesel and her younger brother had been traveling by train with their mother when her brother suddenly died. At the funeral, Liesel picks up a book dropped by one of the grave diggers, starting her career as a book thief. She is then dropped off with foster parents, Hans (Geoffrey Rush) and Rosa (Emily Watson). Although the girl is traumatized and at first refuses to leave the car she arrived in, kindly Hans takes time to talk to her and she finally agrees to go in the house with him. She draws the attention of a neighborhood boy named Rudy Steiner (Nico Liersch) and the two become fast friends. However, when Liesel is asked to write her name on the blackboard on her first day of school, it becomes clear she doesn't know how to read or write.
Hans decides to teach Liesel to read by using the book she'd taken from the graveside. She's an eager learner and is inspired to read more books, which are hard to get hold of during war time. Dealing with the horrors of World War II in Nazi Germany, she takes comfort  in stealing books and sharing them with others. She learns how to cope during the war by reading to her neighbors in the air raid shelter and by keeping quiet about the Jewish refugee, Max Vandenburg (Ben Schnetzer), whom her adoptive parents are hiding in their basement.
Having not read the book I was looking forward  to seeing the film adaption. I was taken in by the breathtaking cinematography. Director Brian Percival adeptly tells Liesel's story and has the audience empathizing with her situation. I felt an emotional connection with these characters, especially Liesel and her adoptive family. As a book lover I sympathized as Liesel watched books being burned in the town square. I also enjoyed Liesel's transformation from a shy, frightened little girl to a brave, intelligent young woman.
Screenwriter Michael Petroni and Oscar-nominated composer John Williams helped to do this film justice by bringing it from page to screen and giving it just the right tone. Zusak, the author of the novel, was also heavily involved in the making of the film and he was reportedly quite happy (and rightly so) with the cast. Geoffrey Rush did a phenomenal job as Hans and Sophie Nelisse was a perfect Liesel.
Special extras include a special featurette called "A Hidden Truth:Bringing the Book Thief to Life," that gives the audience an in-depth look behind the scenes of the film. There are interviews with the author, director and the three lead actors. The featurette also takes a close look at the costuming, set design and music composition. This was a very interesting little extra that I enjoyed watching – it gave me a deeper understanding of the film and book. Also included are deleted scenes that add more context to the film. Overall this is an enjoyable film with a heartwarming story that gives insight into the lives of everyday Germans during a very frightening time in history. ~Tarah Bleier