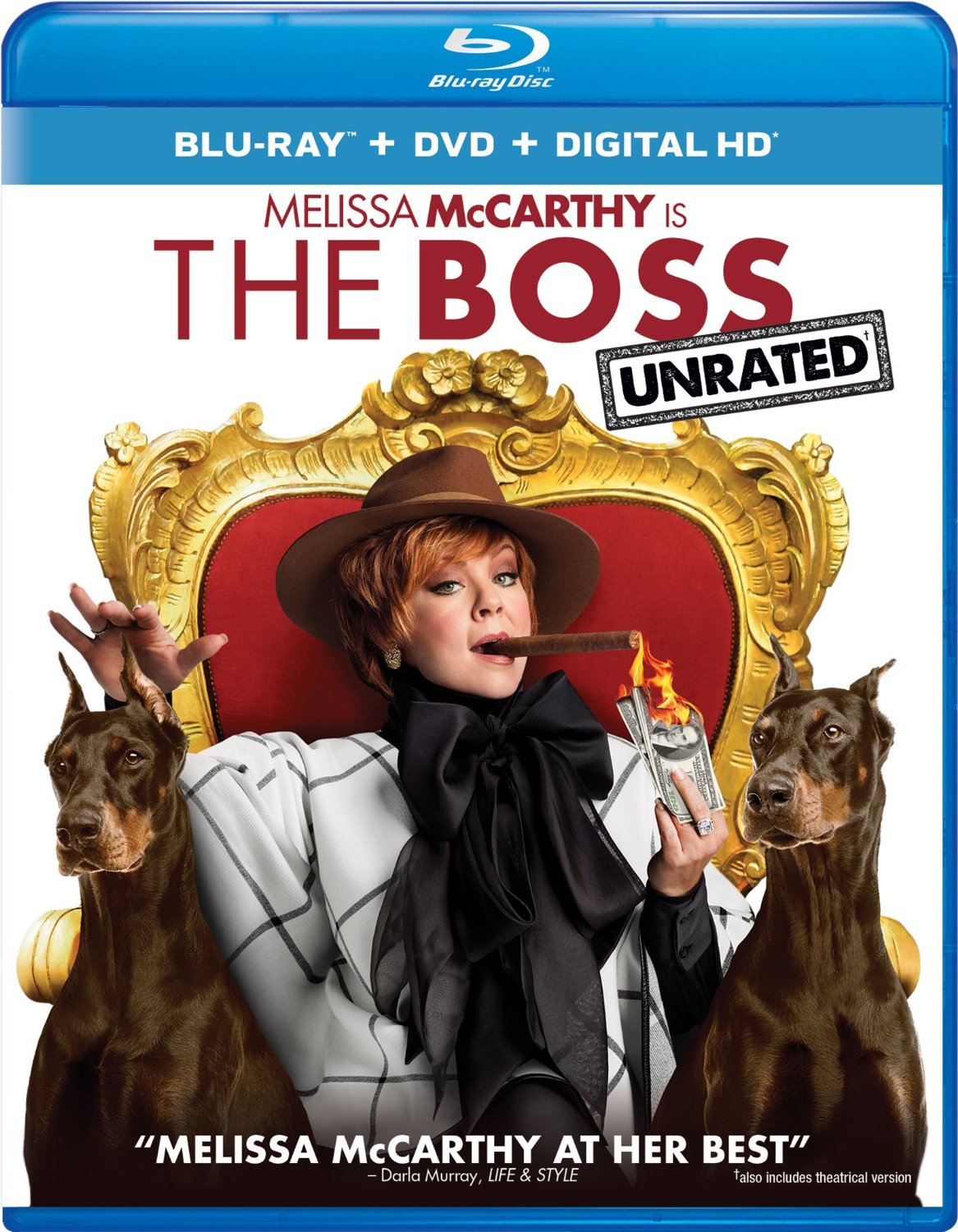 Melissa McCarthy shows us who's the boss of comedy as larger-than-life Michelle Darnell, the wealthiest woman in America. However, she was not always this way.
The Boss begins with a flashback of a younger Michelle as an orphan. Even when she's adopted by a family, she's returned to her orphanage. After flipping off her latest adoptive family, fed up with no one wanting her, a teenage Michelle announces she needs no one and is fine being alone.
Flashing forward to the present day, Michelle is now a famous motivational speaker (as well as the 47th richest woman in the world).
When she's arrested and imprisoned for insider trading, she loses everything. Released six months later, she has no family and nowhere to go. Broke and rejected, she convinces her ex-assistant, Claire (Kristen Bell), to take her in.
In exchange for rent, Claire tells Michelle to pull her weight around the house, and convinces her to take her daughter Rachel (Ella Anderson) to a Dandelions' meeting. The group is similar to Girl Scouts, where girls earn money by selling cookies.
After finding out about the thousands of dollars they make from cookie sales, Michelle decides to reinvent herself — forming her own girls' group called Darnell's Darlings, in which she teaches the girls aggressive business skills that are used to sell brownies made by Claire. Along the way, she has to compete in sales against catty mom Helen, (Annie Mumulo), while avoiding her rival Renault (Peter Dinklage), who is also her former lover.
At one point of the film, Michelle says that her "tongue's always been her sword," and in this film, you'll see that that's very true. With her brash actions, loaded punchlines, and outfits consisting of turtlenecks that cover her chin, Melissa shines with her hilarious observations. She also does a great job channeling her feelings of rejection into financial success. Some of the laughs throughout the movie can get a little goofy, but in a lovable sort of way.
I was also super excited to see Peter Dinklage in the film, who magnificently plays Renault, and even gets into a sword fight with Michelle. If you don't mind some crude and slapstick humor, you might want to give The Boss a try. Besides laughs, it gives a bit of hope. Even if you are lonely or rejected, you can still make a comeback — fingers crossed it means also becoming a famous motivational speaker making millions of dollars.
The Blu-ray's special extras include alternate/extended scenes, deleted scenes, an alternate ending and a gag reel, as well as exclusives such as Michelle Darnell's origin story and original sketch, a look into Kristen Bell's character, and my personal favorite — a hilarious piece about Peter Dinklage, showcasing his sword fight and stunt training, his eclectic wardrobe, hairstyles and even his on-set chemistry with Melissa McCarthy.
If you've had the chance to watch The Boss, feel free to leave your comments on the movies by clicking here.
~Natalia Makarski