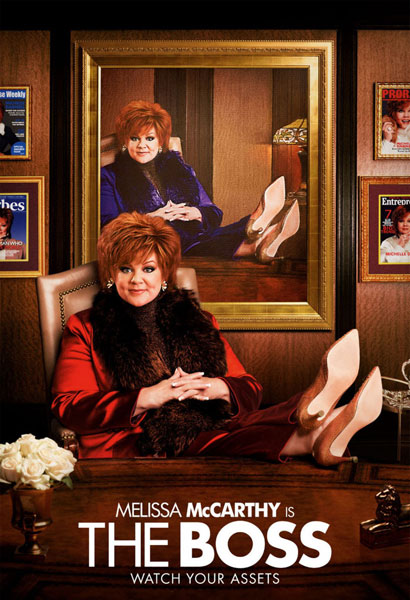 Melissa McCarthy's The Boss takes the lead on the top Tribute trailers list this week. Earlier this week, a flurry of new trailers were unveiled. Two of those trailers made its way to the top five charts: Suicide Squad and Rogue One: A Star Wars Story. Check out the trailers below and tell us which one is your favorite!
1) The Boss
2) Suicide Squad
3) Eye in the Sky
4) Rogue One: A Star Wars Story
5) Hardcore Henry
The Boss – Michelle Darnell (Melissa McCarthy), the wealthiest woman in America, is arrested for insider trading. She's released after six months and goes to stay with her personal assistant, who has a daughter, Rachel. When Michelle take Rachel to a Dandelions meeting and witnesses how much they make in cookie sales, she decides to form her own girl's troop in order to make a killing selling brownies.

Suicide Squad – A group of super villains, including master assassin Deadshot (Will Smith), Harley Quinn (Margot Robbie), The Joker (Jared Leto), Killer Croc (Adewale Akinnuoye-Agbaje), Captain Boomerang (Jai Courtney), Enchantress (Cara Delevingne), Katana (Karen Fukuhara), El Diablo (Jay Hernandez) and Slipknot (Adam Beach) are tasked with a dangerous mission in exchange for a clean criminal slate.

Eye in the Sky – London-based military intelligence officer Colonel Katherine Powell (Helen Mirren) is remotely commanding a top secret drone operation to capture a group of dangerous terrorists at a safe house. The operation however doesn't go as planned when a little girl wanders into the kill zone.

Rogue One: A Star Wars Story – Prior to the events of Star Wars: A New Hope, a young rebel named Jyn Erso (Felicity Jones) is brought before a tribunal, which wants to know how to destroy a major weapons test. 

Hardcore Henry – A cybernetic super-soldier named Henry is resurrected from the dead. He's lost his memory is told that his wife Estelle (Haley Bennett) has been kidnapped by Akan, a powerful warlord. With his only ally, a mysterious British man named Jimmy (Sharlto Copley), Henry has to save her.