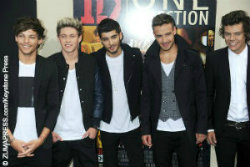 The British Invasion is set to take over the big screen this week with the release of two star-studded features. If you want to be charmed by five young English and Irish lads, then a ticket for the 3D music documentary This is Us might just be for you. Oscar-nominated filmmaker Morgan Spurlock (Super Size Me) gives you a 92-minute intimate look into the lives of five boys
– Liam Payne, Niall Horan, Zayn Malik, Louis Tomlinson and Harry Styles – who together form the world's hottest boy band, One Direction. With 28 minutes of concert footage, don't be surprised if your theater turns into an impromptu concert with girls screaming and adults feeling awkward for being dragged along.
However, if the idea of swooning over a boy band seems too juvenile for you, a British crime drama from the director of Boy A is another option. John Crowley's Closed Circuit is a thriller about the investigation of a London truck explosion that left hundreds of people dead. Two lawyers (played by Eric Bana and Rebecca Hall), who just happen to be former lovers, must work together in defense of a Turkish man who is accused of being behind the terrorist attack.
Also newly-released is Courtney Solomon's Getaway, an action thriller about an ex-race car driver (Ethan Hawke) who hijacks a car owned by a young computer hacker (Selena Gomez), in order to track down his kidnapped wife. Basically, it's like Phone Booth meets Gone in 60 Seconds. But if you're a fan of neither thrillers nor teen idols, then fret not! You can check out two acclaimed documentaries: Penny Lane's Our Nixon , as well as Gereon Wetzel and Jörg Adolph's How to Make a B o ok with Steidl . ~Alfonso Espina