What's the best way to travel the globe, fall in love and make a quick buck? If you're one of the Bloom brothers, you just lie, cheat, steal and above all else, con.
The Brothers Bloom have perfected the art of deception and manipulation. Con artists from childhood, the delinquent duo, Stephen (Mark Ruffalo) and Bloom (Adrien Brody), have a failsafe method of swindling: Stephen is the brains, always thinking up the next con; Bloom is the heart, invariably managing to cozy up to the target. There's just one problem: Bloom wants out. But after a compelling plea from Stephen—and an enticing job he can't pass up—Bloom agrees to take on one last grand con.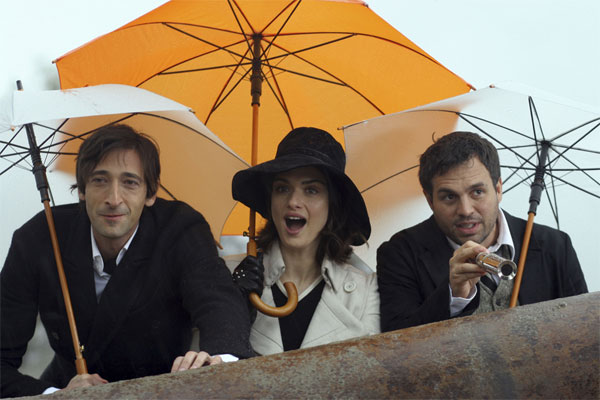 Their mark is an eccentric heiress named Penelope (Rachel Weisz). Stephen concocts a plan that involves conning Penelope out of her inheritance, leaving Bloom to maneuver his way into the heiress's life. The elaborate scheme has the trio traipsing off around the world on an adventure of a lifetime, with unexpected twists and treachery along the way. But Bloom soon finds himself getting a little too close to Penelope—something that could threaten to ruin everything he and Stephen have worked for.
While playing a character so susceptible to the charms of a beautiful woman is not a new challenge for Brody, it was his character's attraction to someone so raw and eccentric that drew him to the role. "The wonderful thing in Bloom is that he finds that redemption in Penelope and finds this girl [who] is almost the anti-Bloom, full of enthusiasm and yet so sheltered in her own way," he told Premiere.com. "The two of them [are] kind of perfect for each other, even though they're almost opposites."
The unlikely romance between a professional swindler and an innocent eccentric makes the story of The Brothers Bloom all the more tantalizing. "It's a character-based con man movie," explained director Rian Johnson to movies.about.com. "It's about taking the con man as a storyteller and a kind of fable fairy tale around that." In a film where fairy tale meets con movie, it's fitting that the brothers live by the theory that "the best con is when everyone gets what they want." Happily ever after, indeed.
— Jennifer Grimbleby