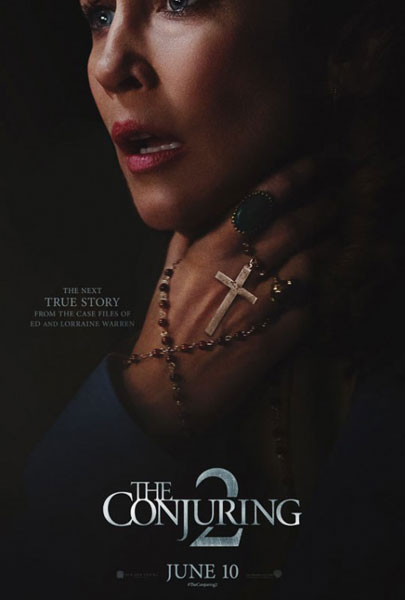 The spirits of the box office have transferred their blessing from a bale of turtles to a young possessed girl and the demonologists who seek to free her from the shackles of evil.
Teenage Mutant Ninja Turtles: Out of the Shadows relinquished the box office crown to The Conjuring 2 this weekend. The James Wan thriller, which stars Patrick Wilson and Vera Farmiga as renowned paranormal investigators Ed and Lorraine Warren, descended into theaters and scared $40.4 million out of audiences. That nearly matches the $41.9 million debut of the first film, 2013's The Conjuring. The sequel is based on true events related to the Enfield Poltergeist and has a 4.2 star rating on Tribute.ca.
Fans of video games flocked to theaters this weekend in support of Warcraft, evident with its silver medal-winning performance at the box office. The action film, which has been afforded a 4.1 star rating by Tribute.ca users, is brought to life by Ben Foster and Paula Patton. It was made for a whopping $160 million and earned $24.4 million in its premiere weekend.
Proving to be a successful weekend for sequels, Now You See Me 2 debuted to a third place finish after hauling in $23 million. The action thriller is the follow-up to 2013's Now You See Me, which opened to $29.4 million, and is bolstered by an all-star cast including Jesse Eisenberg, Mark Ruffalo, Woody Harrelson and Lizzy Caplan. It currently has a 4 star rating on Tribute.ca.
Falling from the top of the list last weekend to fourth position this weekend is Teenage Mutant Ninja Turtles: Out of the Shadows. With a 4.4 star rating from Tribute.ca readers, the action movie now sits on $61 million after it brought in $14.8 million this weekend. With the likes of Stephen Amell, Megan Fox and Will Arnett lending it their talent, the film is doing a fine job of staying out of the shadows. Globally, the movie's total is now $116.3 million.
X-Men: Apocalypse is doing all it can to remain a fighting force at the box office. In its third weekend on screens, it generated $10 million to round out the top-five list. Its total domestic profit is now $136.4 million, and with Jennifer Lawrence, Michael Fassbender and James McAvoy at the helm, Tribute.ca readers have given it 3.2 stars.