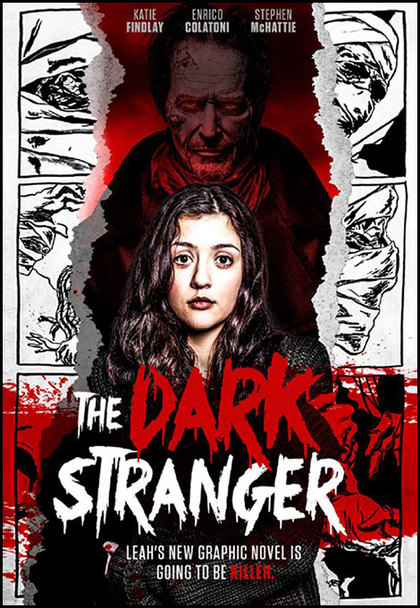 Combining animation with horror, The Dark Stranger is the feature film debut of Canadian filmmaker Chris Trebilcock, who I also happened to interview! The horror movie follows the story of a young graphic novelist named Leah Garrison (Katie Findlay), who suffers from breakdowns, hallucinations, and is prone to cutting after the traumatic suicide of her mother, Ellen (Emma Campbell).
She lives with her worried father (Enrico Colantoni) and her musician brother. When art dealer Randall Toth (Stephen McHattie) asks Leah's father if he can show Ellen's paintings in an exhibition of artwork from artists who have battled depression, Leah is angry and doesn't want them to be taken away.
Out of desperation, Leah suddenly finds the inspiration to write a dark, fairy-tale type of graphic novel, partly using her own blood to draw the art. The story she writes revolves around a singer named Alyra, and an ominous character called The Dark Stranger.
But as she continues the graphic novel, The Dark Stranger begins to cross over into the real world, and may be a physical manifestation from her distraught state of mind. He also creepily happens to look like Randall the art dealer — as if he wasn't odd enough.
Leah must now destroy him before he threatens her and her family any further. She finds out that even though she was the one who brought The Dark Stranger to the real world, she is also the only one who can make him leave.
I found The Dark Stranger to be a horror movie with more than just jump scares. The film studies the connection between creativity and depression, and Leah embodies the struggles of both the director and fellow artists with strong emotions, or mental illness.
The genre is unique, and although it is classified as horror, it could also be seen as a drama, with aspects of fantasy, a bit of romance, and even some animation. I adore the artwork, and how the incorporated shots of animation are both creepy and fantasy-like — kind of like Tim Burton's art, with the story giving me a Grimms' Fairy Tales sort of vibe. I actually wish there was even more animation in the movie.
The film showcased many great performances, especially by Katie, Enrico, and the legendary Stephen. I was so excited to see Katie in the film, as I've only seen her in the series How to Get Away with Murder, and recognized Enrico after watching him in the show, as well as movie, Veronica Mars. Katie gives us a believable look into mental illness, showing the audience how depression can alter your life, with examples such as how she lashes out in frustration but then apologizes out of guilt, how she fears leaving the house, fears failure, and has flashbacks to bad memories.
I admire Chris Trebilcock for his bold film debut, and would encourage anyone who enjoys a creepy movie with a deeper message to give it a shot! If you've already seen The Dark Stranger, share your thoughts with us by clicking here. ~ Natalia Makarski