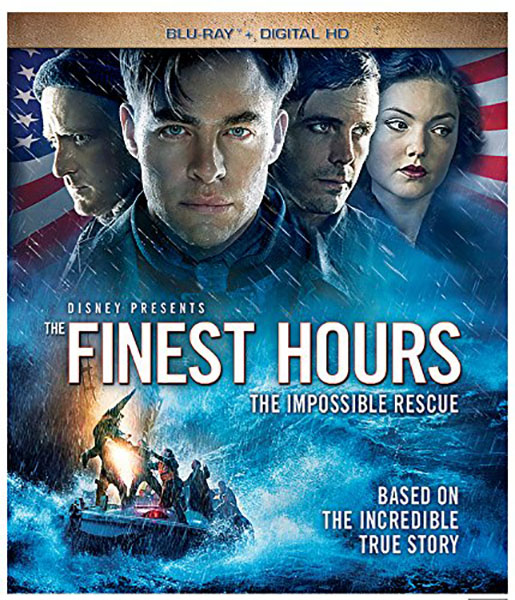 The Finest Hours is based on the incredible true story of a storm that took out not one but two oil tankers off the coast of Massachusetts in 1952. Bernie Webber was awarded the U.S. Coastguard's Gold Lifesaving Medal after rescuing 32 crewmen on his lifeboat and returning them safely to shore.
The Finest Hours starts out with an innocent double date. Bernie Webber (Chris Pine) is nervous about his blind date with Miriam Pentinen (Holliday Grainger). They've spoken on the phone a few times, but Bernie is worried she might not find him attractive. Bernie's friend Ray Sybert (Casey Affleck) reassures him that looks have always been his strength. One thing Bernie isn't worried about is what Miriam will look like, and when they two finally meet, it's love at first sight – cue the string section.
Eric Bana, always playing the man in charge it would seem, plays Bernie's commanding officer Daniel Cluff. When Miriam proposes marriage to Bernie, he reveals that he needs the permission of Chief Warrant Officer Cluff. Before Bernie can ask Cluff for permission, news comes in that an oil tanker has sheared in half and it's now up to Bernie to save the day.
The romance between Bernie and Miriam frames the plot of the movie while giving the audience an emotional anchor to Bernie. If Bernie dies, he leaves behind a grieving Miriam.
The plot is a standard rescue operation, although it's not without moments of brilliance. The commander of the doomed oil tanker orders his men to steer their ship into an underwater reef in order to buy time. Bernie heroically saves 32 crewman even though his motorboat can only hold 12 people. I'm blown away that this actually happened in real life.
The film shows actual photos of the 1952 rescue at the end during the credits.
The film's strengths is in the acting, cinematography and set design. I particularly enjoyed the lighting and color correction. Both were dark and felt warm, which helped make it feel more like 1952. The action sequences were well acted, but when our heroes head out to sea during the film's rescue operation, the conspicuous use of the green screen became distracting.
The Finest Hours is a nostalgic look at a very real heroic event. Bonus features include the featurettes Against All Odds: The Bernie Webber Story; Brotherhood; Two Crews; What is Your Finest Hour? and The Finest Inspiration. Deleted scenes are also included. The special effects and some of the cosmetics could have been better, but there's real talent all around. ~ Yanis Khamsi
Have you seen The Finest Hours? We'd like to know what you think. Click here to write your review.