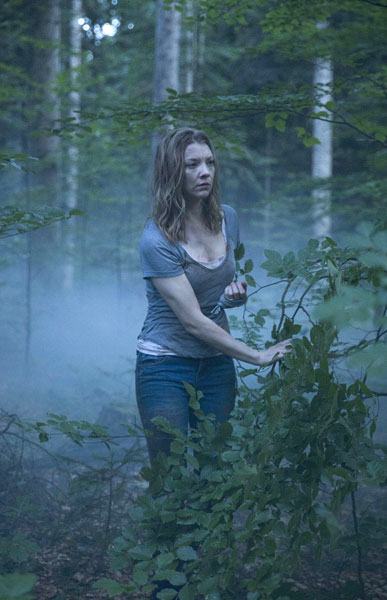 Ask anyone and they'll tell you about my unsettling penchant for spine-chilling horror movies. Disturbing? Graphic? Fine by me. The Japanese culture lends a huge portal for psychological supernatural thrillers and with Japan's infamous Suicide Forest as the setting for the film, I had high hopes for The Forest.
The film follows Sara (Natalie Dormer), who is married and settled down with her husband. She has a twin sister Jess who has accepted a job as a teacher in Japan. When Sara is informed by the school that her sister has gone missing in the Aokigahara forest, she goes to find her. This forest is known as the Suicide Forest where the weak-willed go to end their lives or seek answers.
We soon find out that Jess has tried to commit suicide in the past and this makes Sara all the more anxious. She meets Aiden (Taylor Kinney), a travel writer, who is intrigued by Sara's story. When he asks her how can she be so sure her sister is alive, she says she just knows. Even when her sister attempted suicide in the past, she could hear a faint sound that told her she was alive.
Aiden offers to guide her into the forest in return for writing her story. He explains that the forest feeds on the tortured soul and if Sara is holding anything in, she could be easy prey. Sara has always been the one to bail her rebel sister out and this time she believes is no different.
With the help of a local, they enter the forest and soon we see proof of the forest's claim on tortured souls: dead bodies and spirits walking around. Sara and Aiden are also warned to not stray away from the path. Upon reaching a spot with a tent, Sara finds a few items that belonged to Jess and concludes that she is alive and well in this forest. She decides to stay the night, despite being warned against it by the local guide.
What follows is a spiral of unexplained events that make the final concluding scenes less than credible. The real reason for Jess' disappearance is never fully explained and Aiden's role is quite questionable. I'm still not sure what his intent or purpose was, other than lending a hand to a more than complicated script.
That being said, Natalie Dormer played her role well and so did Taylor Kinney.
There was so much scope for this film, especially with the Japanese folklore, but the script wasn't fully developed and lacked proper direction. It didn't make much of a horror fest. As I said, I had high hopes for this one but sadly, it got lost in the forest.
Special features include Exploring The Forest, Galleries, Storyboards and Feature Commentary with Director Jason Zada.