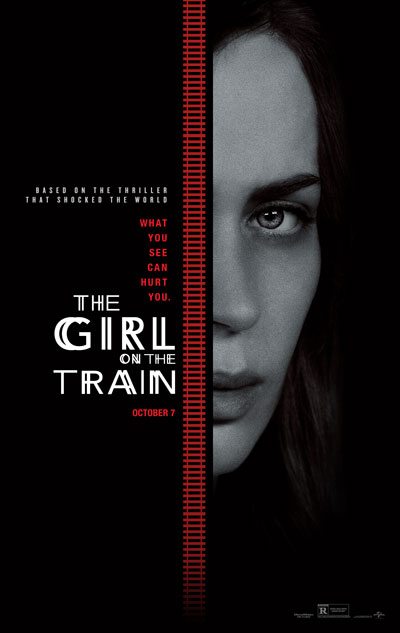 Universal Pictures and DreamWorks released the teaser trailer for The Girl on the Train three months ago, and now the official trailer and poster have finally been released. Based on Paula Hawkins' best-selling 2015 thriller novel of the same name, we get a closer look at Emily Blunt as Rachel Watson.
In the film directed by Tate Taylor, we are introduced to Rachel — a depressed divorcee who passes by a couple's house every morning on her train commute to work. "I used to watch the perfect couple," Rachel solemny recalls, as we see her eyeing a blonde woman on a balcony. "They were the embodiment of true love."
She is enthralled with the two and even invents a fantasy life for Megan (Haley Bennett) and her husband, Scott (Luke Evans). But when Megan goes missing during a jog, everyone becomes suspcicious of Rachel, who was in the same area when Megan disappeared. Rachel is shown visiting her ex-husband Tom (Justin Theroux) but he asks "Why are you here?" She tells him that she is helping to find Megan, but he responds with "I don't think you're helping anybody."
As Rachel becomes entangled in the case, more details arise that put her in a questionable light. We are shown steamy clips between a couple as Rachel appears disoriented about the disappearance. We find out that Megan is actually Tom and his new wife Anna's (Rebecca Ferguson) nanny, and that Megan was seeing a therapist.
Heart-pounding action shots reveal a woman with a baby, people running, a woman violently being pulled by her hair, and Rachel screaming into a mirror. We hear someone once again ask Rachel "Why are you here?' but this time she responds with "Because I'm afraid of myself."
The highly anticipated movie looks to be just as mysterious and gripping as we thought it would be! Was Rachel behind the disappearance, or is it someone different entirely? We'll just have to wait for the film to open in theaters on October 7, 2016 to watch the mystery unfold. ~ Natalia Makarski