The Good Dinosaur is really good – Blu-ray review
By Tribute on February 23, 2016 | Leave a Comment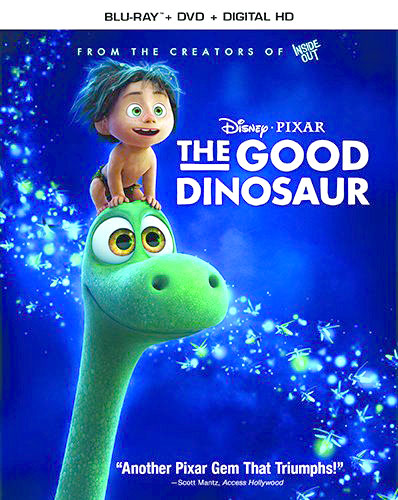 In The Good Dinosaur, we are taken back to a time before smartphones and Starbucks, before Netflix, before Blu-rays, before television and even time itself — some millions of years ago, in a fictional prehistoric era when dinosaurs lived among the earliest humans. However, in this allegorical world, it's the animals and dinosaurs who talk, laugh, cry, work, play — they are the intelligent beings.
Young Arlo, one such being, is born to a corn-harvesting family of larger-than-life apatosauruses. From the moment of his birth, Arlo's parents know he's different. He is the highly anticipated final child in a litter of three. His egg is the largest of his two newborn siblings, so it's clear he's going to be a big one. But as the eager new parents peer into this massive womb, they're surprised to find its teeny tiny inhabitant. Arlo isn't big at all. In fact, he's a runt.
As he grows up, Arlo doesn't take to the family business as easily as his brother, Buck, and his sister, Libby, do. He is awkward, insecure and afraid of everything around him — even the chickens he's forced to feed every day.
But what Arlo lacks in physical strength and fortitude, he gains in sheer determination. Determination to make his mark in his family — literally. Each member has placed a mud footprint onto the family's corn silo, except for Arlo. His father, Henry, tasks Arlo to catch, and kill, a thief who has been stealing corn from their farm. If Arlo completes this task, he will finally earn his mark on the silo.
Arlo catches the sneaky thief — a tiny, but very aggressive, caveboy. Fearful and sympathetic, Arlo lets the feral human escape, much to the disappointment of his father. "You must let go of your fear," Henry lectures his son for the hundredth time, as the two race up Clawtooth Mountain to catch the canine-like anthropoid. But, along their climb, a treacherous storm suddenly erupts. And, if you've ever seen a Disney movie, you can guess what happens next.
Time passes, and Arlo and his family are struggling to harvest enough corn to last them for the upcoming winter. Arlo, ever dogged, promises his mother he won't let his family starve. On that very same day, Arlo finds the little caveboy stealing corn in the silo. He chases the child in a fit of rage and thirst for vengeance. But the prehistoric toddler is much too agile, and Arlo ends up swept along a dangerous river rapid. Alone, hungry and utterly lost, Arlo must summon up the courage to find his way back home, to fulfill the promise he made to his beloved mother.
Directed by Pixar mainstay Peter Sohn, The Good Dinosaur is a fun adventure tale about finding bravery in the most unexpected of circumstances, and with the most unexpected friends to help guide the way.
So, admittedly, this stubborn reviewer doesn't watch animated films as often as she should. But, she just might start after this adorable gem. The Good Dinosaur is unadulterated Disney, through and through. And, being a kid of the '90s — the Golden Era of Disney — I loved it.
Yes, the plot line is completely formulaic. We all know Disney is in the business of parent-killing. As soon as you see the relationship between Arlo (voiced by Raymond Ochoa) and his father (Jeffrey Wright), you know Pop's a goner. You also know that this is a hero's journey with a happy, satisfying ending. But, honestly, who cares about a little predictability when the movie is just so lovable? This is an undeniably heartwarming flick about the cutest pair of unlikely pals I've seen on screen since Tod and Copper in The Fox and the Hound. The friendship that forms between Arlo and Spot the caveboy (yes, the same one stealing the corn, of course) is so sweet. Yeah, that's right. I'm not afraid to admit that I got emotional at some of their scenes together.
And, to my surprise, I was also riveted. There were more than a few action-packed moments that were genuinely heart-pounding. I watched this with my four-year-old nephew, and I was actually worried certain parts were too frightening for him. But it's possible I'm just getting soft in my old age. Let's just say, neither he, nor I, like pterodactyls anymore.
We really can't talk about a Disney film without mentioning the animation. Which is truly breathtaking. Some of the sweeping shots of Clawtooth Mountain and the vast landscapes surrounding it were so detailed and so pristine, it was like watching a live-action movie. I must have been living under a rock for the past decade or so because it's mind-boggling how realistic animated films have become in recent years. There's one scene in particular that I just can't get out of my head. After getting knocked unconscious in the river, Arlo wakes up, dazed and confused, in a shallow river bank. And the way the water shines and glistens around his head is simply gorgeous, and thoroughly unforgettable. There are some talented, talented folks over at Pixar.
Watching this flick may the dawning of a new era for me as a moviegoer. I never thought animated movies could be as good as they were when I was a kid. And while The Good Dinosaur may not be the most original animated feature, maybe I'm wrong. Maybe it's time to open the vault. Maybe now when people ask me if I've ever seen Finding Nemo, they can stop booing me when I respond.
There are also lots of Blu-ray/DVD Extras for you to check out: The Filmmakers' Journey– Sohn and co.'s experience filming the movie, Hide and Seek- a short promotional clip for the movie, True Lies about Dinosaurs- the difference between the real and movie dinosaurs, Recyclosaurus– a fun little feature that has the crew making a dinosaur out of recycled items, Every Part of the Dinosaur– exploring the animation process and Following the T-Rex Trail– meeting the family who inspired the T-Rex ranchers and Deleted Scenes with Intros.
~Shelby Morton
---
---
---
Similar Articles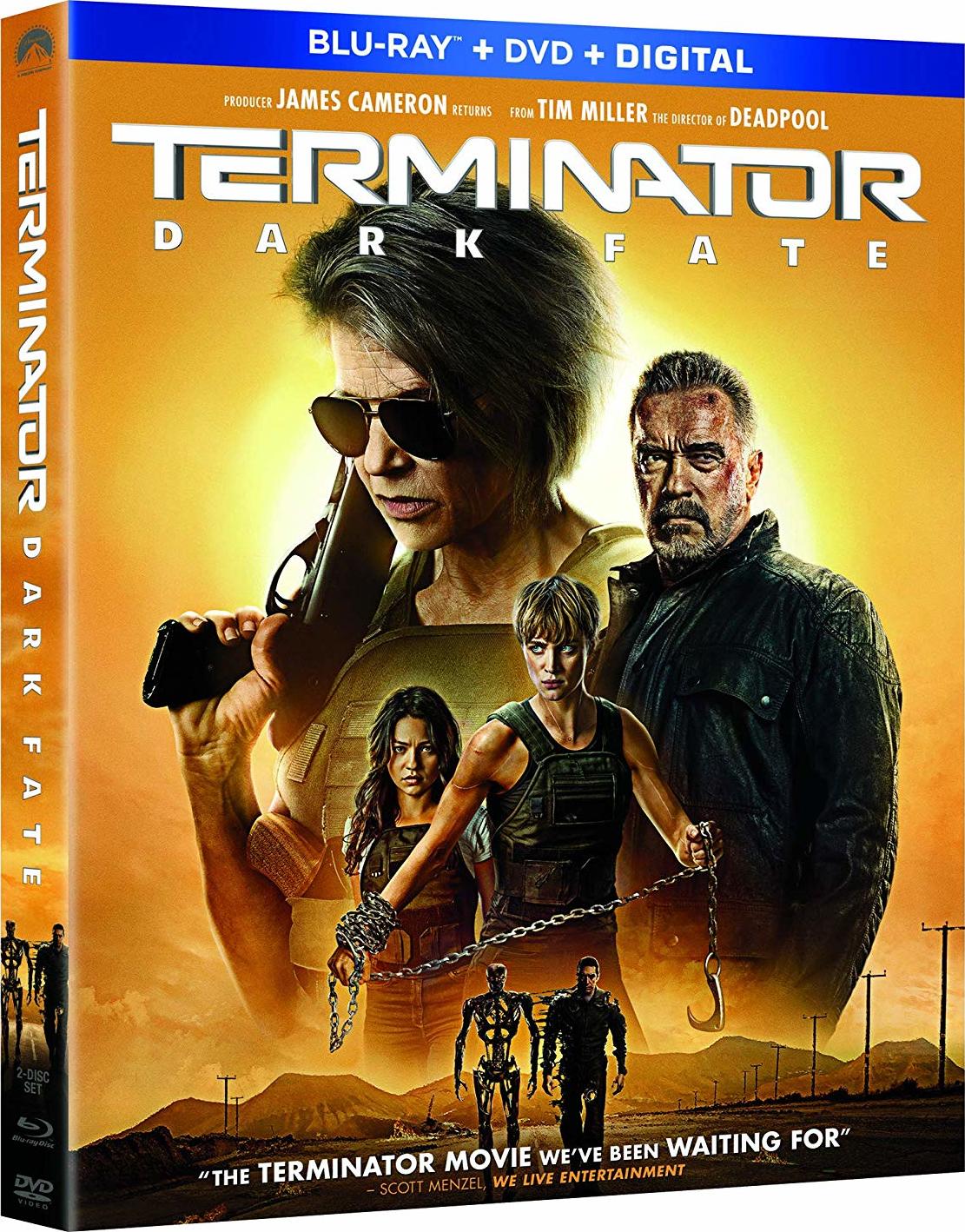 January 28, 2020 | Leave a Comment
Linda Hamilton, the original Sarah Connor, and the Terminator franchise are back with Terminator: Dark Fate, as the latest entry in the series hits home theaters.
---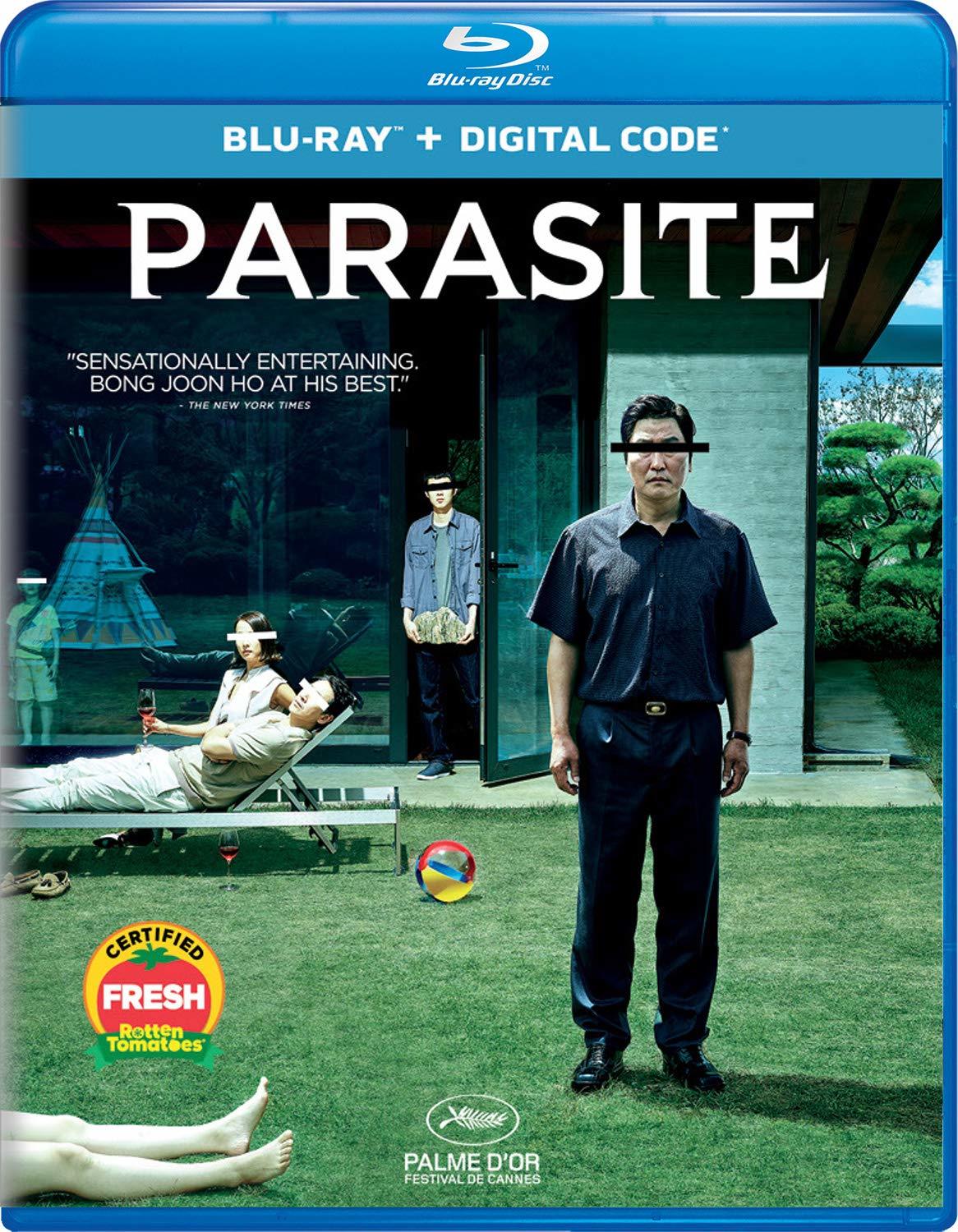 January 27, 2020 | 3 Comments
Parasite is an infectious film that attaches itself to you from its opening moments and slowly grows into an engrossing work that take you to unexpected places.
---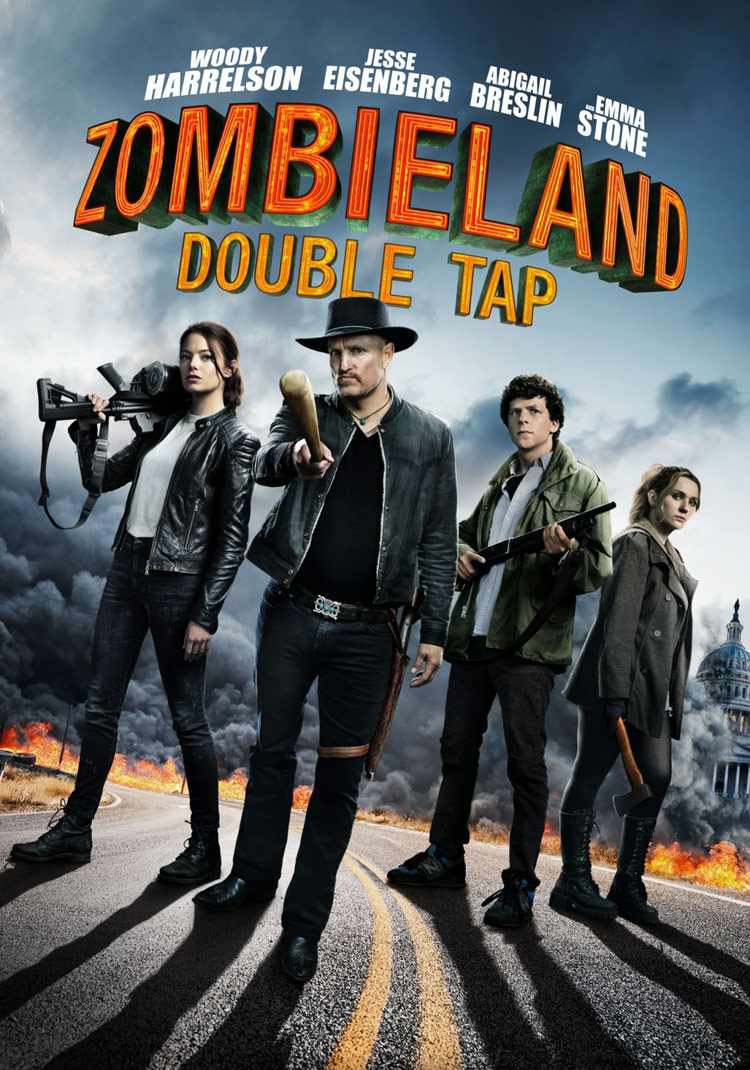 January 21, 2020 | Leave a Comment
Though Zombieland: Double Tap is far from being as fresh as the original, this sequel still features its likeable cast in all their zombie killing glory with some killer laughs along the way.
---