The Grand Budapest Hotel Blu-ray review
By Tribute on June 18, 2014 | 33 Comments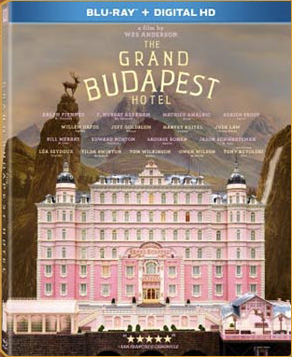 A Wes Anderson film can be spotted a mile away. Although his stories are each of a unique time and place, those places look very much the same. Overwrought and ornate, meticulously organized, brightly colorful, and more or less symmetrical, The Grand Budapest Hotel is no exception. Actually, the hotel is exceptional, and it is kept that way under the supervision of concierge, M. Gustave H. (Ralph Fiennes). Truly, the story belongs to him, but it must be filtered through several perspectives first. This film is all about framing devices. Like so many Russian Matryoshka dolls, the stories and timelines in which they are set are nested within one another and characterized by their own unique aspect ratio.
In the present day, a young woman visits a cemetery to pay tribute to a deceased author. As she opens his book, The Grand Budapest Hotel, the actions shifts to 1985, where the Author (Tom Wilkinson) details his visit to the titular retreat as a Young Writer (Jude Law) in 1968, whereupon the action shifts again. A dingy shadow of its former glory, the now run-down hotel is owned by a Mr. Moustafa (F. Murray Abraham), who proceeds to tell the Young Writer how he came to inherit the establishment. Flashback to 1932 – the fictional Republic of Zubrowka. (I must add here that the fictional geography and history that Anderson invents allows him to assemble the sights and sounds of Eastern Europe, painting a charming pastiche of luxurious hotels, tiered chocolate pastries, and of course, skiing.) Moustafa, aka Zero (newcomer Tony Revolori), is a junior lobby boy in training under the instruction of the fastidious, poetry-loving, heavily-cologned M. Gustave, who keeps the company of elderly and exceedingly wealthy female patrons.
When Madame D. (Tilda Swinton), one of Gustave's consorts, dies under mysterious circumstances, she bequeaths the priceless masterpiece painting, Boy With Apple, to the concierge, which incurs the wrath of her greedy son, Dmitri (Adrien Brody) and his sinister henchman, Jopling (Willem Dafoe). Goofball and screwball partners in crime, Zero and Gustave steal the painting. When Gustave is framed and arrested for Madame D's murder, it is up to Zero, with the help of a young baker, Agatha (Saoirse Ronan), to help his mentor escape from prison, prove his innocence, and recover the precious painting. What a treat to watch their unlikely but close friendship grow out of such bizarre and whimsical situations. Like the titular hotel, the film is incredibly charming in its many details.
The film and its hotel are celebrations of a bygone era, and yet there are several characters who seem out-of-place (and time), which is oh-so Andersonian. Regular collaborators  Bill Murray, Jason Schwartzman and Owen Wilson appear in brief and unsubstantial roles. Personal vision is an increasingly rare event in a world that demands consistency across product lines, including films. Anderson's works are unlike anything else in the cinemas, and this can be good or bad depending on your sensibilities as a viewer. He is an incredibly divisive director. People either loathe or love his visual style. Some embrace the quirk. Others find it unsettling and reject it. But The Grand Budapest Hotel may be Anderson's first picture to betray and overwhelm even his most loyal, hipster followers. It is perhaps the clearest, sincerest expression of the director's imagination.
By the same token, this sensory overload is also perhaps his most fun and playful film. Anderson's touch is seen and felt in every frame. I truly can't name another director who films working miniatures of the most artificial manufacturing against such obviously painted backdrops, as though he were a child peering into a makeshift diorama of his own creation. Even if it's silly and outrageous, the novelty of his vision ought to be appreciated for what it is: a welcome reprieve from slick flicks with lens flares.
As far as special features go, Bill Murray Tours the Town is perhaps the most special of them all for no other reason than it's Bill Murray leading a tour, an experience I'm sure only his most ardent and unusually cult fans have only fantasized about. Although the segment isn't as funny as one might hope, it was a surprisingly interesting education in the local culture, as Murray tries a variety of German sausages with spicy mustard and points out that Poland is literally down the street and to the right of where he is standing in Gorlitz, Germany, where much of the film was shot.
Other features include a stills gallery and three featurettes, each about the making of the film, the cast, and the director. Unfortunately, many of the sound bites and interview clips are used repeatedly across all three features, so they are rather redundant, but the Vignettes featured on the home release are a real treat, especially a filmed recipe guide to making the film's star, Seussian confection, Mendl's Courtesan Au Chocolat.
Other home releases this week include: Cosmos: A Spacetime Odyssey, The LEGO Movie, Devil's Knot, Joe, House of Cards: Season 2 and Walk of Shame. ~Daniel Horowitz
---
---
---
---
Similar Articles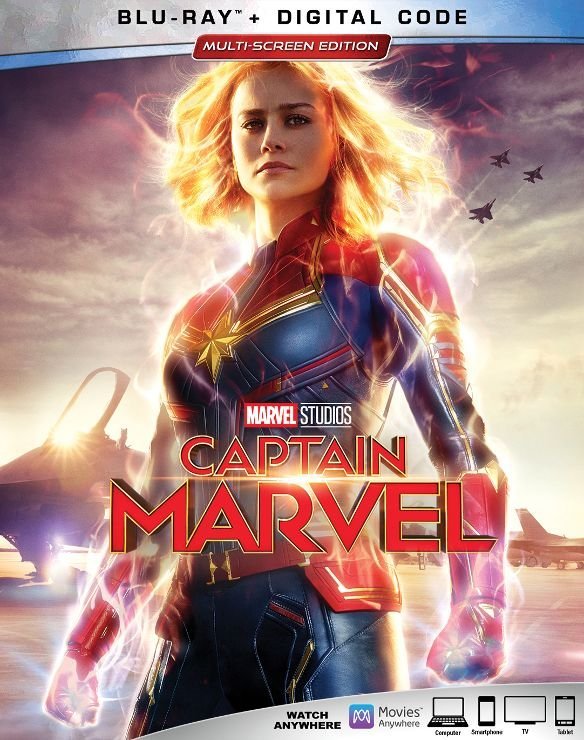 June 10, 2019 | 2 Comments
Captain Marvel, an MCU first for female heroes, delivers a high-flying adventure across the stars and on Earth and flips the origin story on its head.
---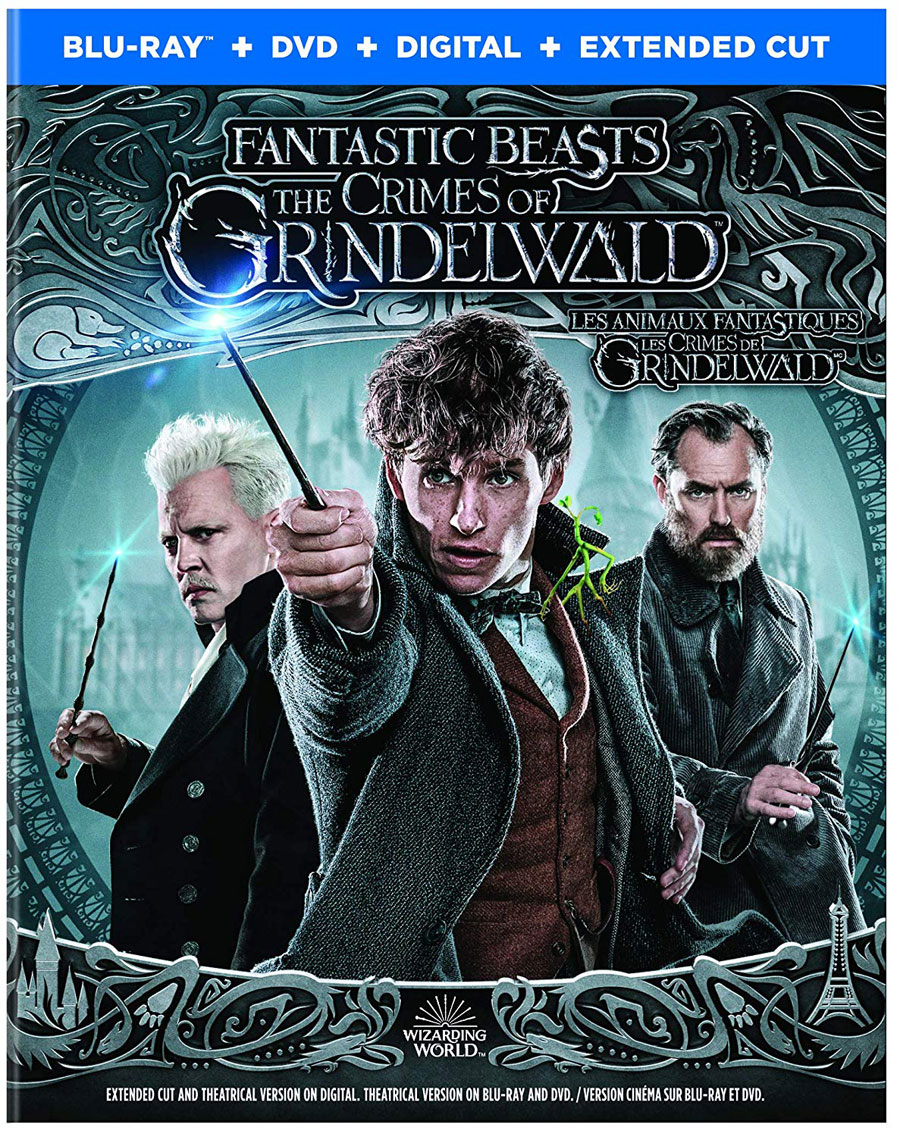 March 12, 2019 | Leave a Comment
The latest entry into J.K. Rowling's Wizarding World franchise continues the story of Newt Scamander offering the promise of a greater conflict on the horizon.
---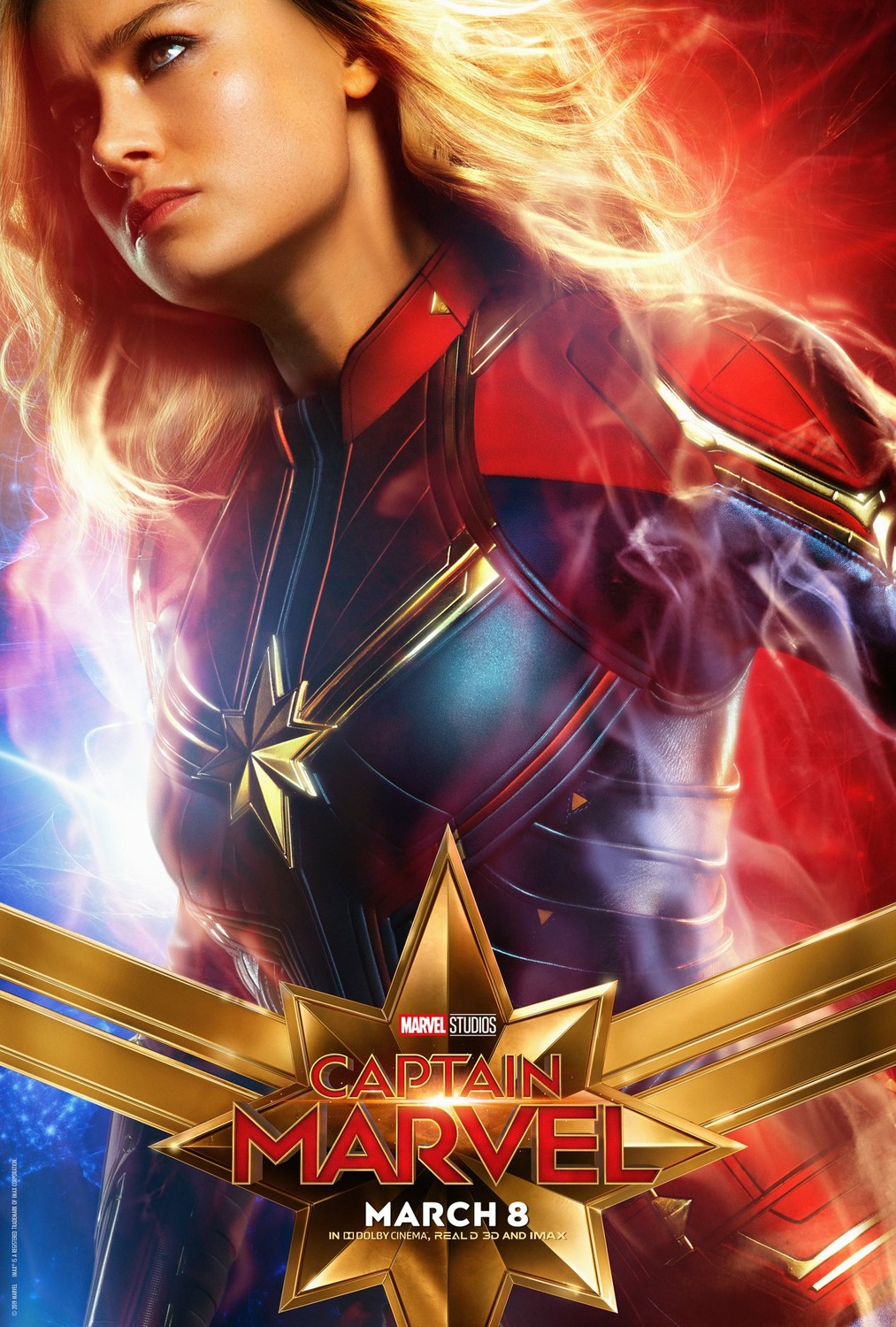 March 7, 2019 | 4 Comments
Captain Marvel is a fast-moving, action-packed film that tells the story of Carol Danvers, an Air Force pilot who is taken in by Krees and made into a warrior.
---