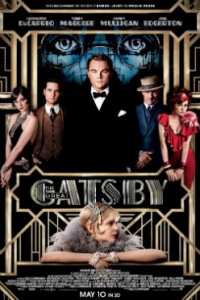 F. Scott Fitzgerald's tale of tragic romance in 1920's Jazz Age is one you've most likely encountered before. Whether you read the book in school or watched one of its many adaptations, you can't deny the fact that The Great Gatsby has maintained its relevance in today's pop culture. The classic story of Jay Gatsby – a mysterious man who flaunts his New Money lifestyle in order to win back his ex-lover Daisy Buchanan – is narrated by an everyday man named Nick Carraway, whom we vicariously journey with as we peek into the private lives of New York City's elite. Although it's dated, the story's themes of love and power will resonate with hopeless romantics and ambitious personalities in search of their own American dream.
Bringing the latest adaptation to life is Academy Award-nominated writer/director Baz Luhrmann, whose past films such as Moulin Rouge and Romeo + Juliet definitely make him qualified to direct this romantic drama of extravagant proportions. Luhrmann recruits a cast of established talent and rising stars, including his Romeo + Juliet leading man Leonardo DiCaprio. As Jay Gatsby, DiCaprio captivates with movie star charisma. As the object of his affection, British actress Carey Mulligan effortlessly portrays Daisy's cold demeanor hidden under a soft facade. Tobey Maguire is certainly adequate in the role of Nick Carraway, but it's really the supporting cast – specifically Elizabeth Debicki as Jordan Baker, Joel Edgarton as Tom Buchanan and Isla Fisher as Myrtle Wilson – who steal the scenes in their perfectly cast roles.
Luhrmann's decision to combine the modern elements of 3D and contemporary music to a period piece was a controversial move. Purists may not agree with this dramatic change, but I thought it was a surprisingly inspired choice. Music from the likes of Florence + the Machine, Lana Del Rey, Jay Z and Kanye West helped to enhance the effectiveness of scenes. Although it was distracting at first, you've got to admire Luhrmann's attempt in making the film appeal to modern audiences. The Great Gatsby is not a completely faithful adaptation of the novel. Numerous scenes have either been cut significantly or changed. Regardless, it's still an exciting approach to a story that's been retold numerous times.
Special features on The Great Gatsby DVD include segments on The Greatness of Gatsby, Within and Without with Tobey Maguire, The Swinging Sounds of Gatsby, The Jazz Age, Razzle Dazzle — The Fashions and deleted scenes. Other movies releasing this week on DVD include Michael Bay's Pain & Gain, Jeff Nichols' Mud and Jeff Renfroe's The Colony. ~Alfonso Espina