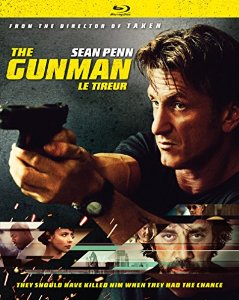 In the new Blu-ray release The Gunman, Jim Terrier (Sean Penn) works as an international assassin. He is sent out on missions around the world to assassinate political/important figures. Jim works alongside Annie (Jasmine Trinca), to whom he's attracted. The two fall for one another, but Annie thinks she is not ready for a steady relationship, preferring to focus on her career.
While on a mission in the Democratic Republic of Congo, Jim volunteers at a hospital for the sick. The organization he works for has given him the task of assassinating the country's minister of mining. When his mission is successful, it causes an uproar.
Jim remains in the country to continue his volunteer work and one day he is out with some Congalese volunteers to help drill a well. A group of Congalese soldiers arrive, intending to kill him. Realizing that the soldiers will kill everyone there once they get rid of him, Jim tries to protect his fellow volunteers and does a good job, managing to get out alive.
Eight years later, Jim is no longer working as an assassin. He learns that the organization he worked for has betrayed him and is now on the hunt to kill him. Upon learning this, Jim flees Africa and heads to London, to pair up with his friend Stanley (Ray Winstone).
He's hoping Stanley will help him figure out what's going on, but also realizes he has to investigate further.
The Gunman is an action flick that will entertain viewers who are into action movies. It may even have some viewers wondering why Jim Terrier was the target of the organization he once worked for and how and why he was betrayed. At any rate, I found the film's plot complicated and somewhat hard to follow.
Sean Penn does a fair performance. He's not close to being James Bond or Bryan Mills from Taken, but overall he does an adequate job. He and the supporting characters, particularly Jasmine Trinca as the love interest, make a great team in working together on the mission. His friendship with Winstone's character is honest and his encounters with the villains are clever.
The Gunman is now available on DVD, Blu-ray and Digital HD. Watch the trailer by clicking here.  ~Maria-Josee Martinez