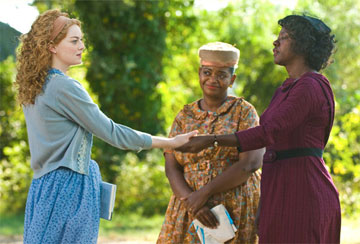 If you didn't catch The Help in theaters, make sure to get hold of the DVD because this is one film you don't want to miss.
Based on the New York Times bestseller by Kathryn Stockett, The Help is the story of aspiring journalist Eugenia "Skeeter" Phelan, played brilliantly by Golden Globe-nominee Emma Stone (Easy A), who will very likely get a few more nods for this performance.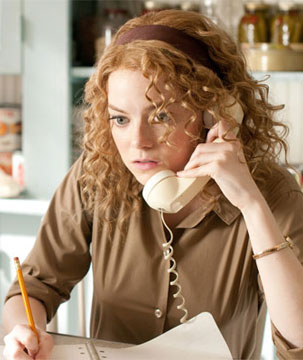 Skeeter, who has just returned to her hometown of Jackson, Mississippi following completion of her college studies, begins to see her hometown in a new light. White children are loved and raised by black maids, who reluctantly are forced to neglect their own children in order to work for a living. Once grown up, the white children have no appreciation for the women who raised them and treat them with the same disdain as their parents have always done.
Skeeter decides to write a book about the maids' experiences, knowing it will open many eyes. She has to do it under a cloak of silence, fearing that the white residents of Jackson will try to put a stop to it, or worse, punish the blacks for speaking about their situation.
It will come as a surprise to many who see this movie that as recently as the 1960s, black people were treated as less than human and forced to live in these conditions, denied of many basic rights. Besides Emma Stone, there are a number of wonderful performances in this film, including Viola Davis as obedient maid Aibileen, who loves the children she raises more than their parents do; Octavia Spencer as sassy maid Minny who gets sweet revenge when she's fired for using the indoor bathroom; Jessica Chastain as Celia Foote, a white newlywed who's as ostracized as the black women; and Bryce Dallas Howard as the evil Hilly Holbrook, who creates most of the misery in her circle of friends.
Special features on the DVD include two deleted scenes with introductions by director Tate Taylor and a music video by Mary J. Blige (The Living Proof). The blu-ray has the above, with three additional deleted scenes plus Making of The Help: From Friendship to Film; In Their Own Words: A Tribute to The Maids of Mississippi and Johnny's Home.
Score: 5 out of 5 stars
~Alexandra Heilbron