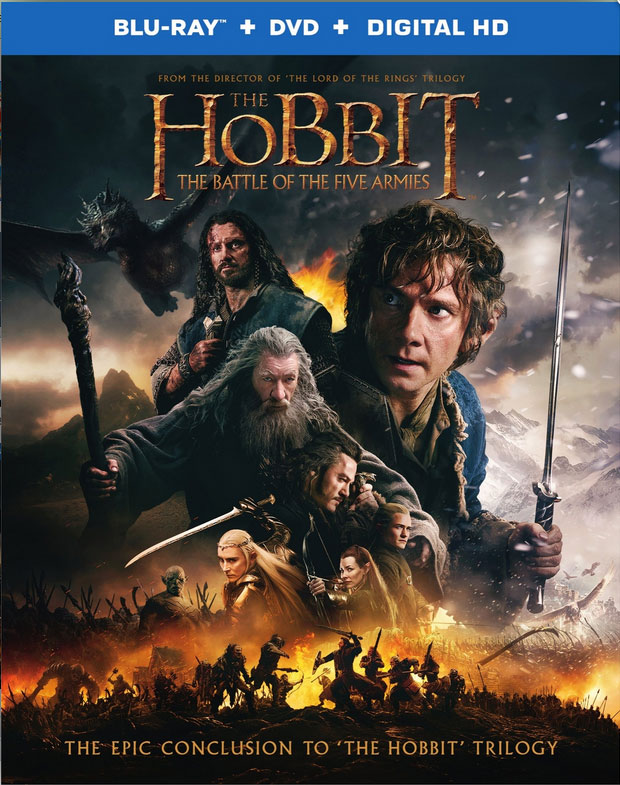 The Hobbit: The Battle of the Five Armies, the final installment in The Hobbit trilogy, concludes the long travelled road of the dwarves looking to reclaim their home in The Lonely Mountain, but they soon find their home isn't quite as safe as they thought.
We rejoin the travelling dwarves, led by their fearless leader Thorin (Richard Armitage) and burglar hobbit Bilbo (Martin Freeman). They had just freed the long hibernating dragon Smaug (Benedict Cumberbatch), who attacks neighboring Lake-town, setting the town ablaze. The dwarves, who watch on as the town burns, turn towards rebuilding their lost home. As families of Lake-town flee on boats to escape the fiery dragon, Bard (Luke Evans) escapes from his prison cell and battles Smaug one-on-one.
Meanwhile, Gandalf (Ian McKellen) is saved from the evil forces at Dol Guldur by Galadriel (Cate Blanchett), Elrond (Hugo Weaving) and Sauron (Christopher Lee). Gandalf soon regains his strength and heads to find Thorin, as he knows there is a war coming and that they are severely outnumbered. The dwarves soon find their peace is short lived.
I really enjoyed the way the film ended – I thought it was a great send off and also connected well with The Lord of the Rings trilogy. My only problem with this film was that some of the scenes dragged on or felt as though they didn't quite fit. I realize that stretching a book into three films, when it could probably have been done in two, will have the effect of having too much material. I was just hoping for a little more action in some places and a little more story exploring in others. Overall, as someone who read the book, I was happy with what I saw and can now add the movie to my collection. When all is said and done, I give this film 3.8 out of 5 stars.
The Blu-ray release of The Hobbit: The Battle of the Five Armies is presented in 1080p with DTS-HD Master Audio 7.1 surround. Special features include the following featurettes: New Zealand: Home of Middle-earth – Part 3, Recruiting the Five Armies, Completing Middle-earth, the music video The Last Goodbye and a The Last Goodbye: Behind the Scenes as well as Theatrical and "Legacy" Trailers.
Other movies releasing on DVD and Blu-ray this week include: Unbroken, Into the Woods, The Intruders, Song One and the 30th anniversary edition of the hit 1985 movie The Sure Thing.
To watch trailers for these movies, click each link below:
Unbroken
The Hobbit: The Battle of the Five Armies
Into the Woods
The Intruders
Song One
The Sure Thing
~Andrew Siwik